Clean Rooms & Nanotechnology
FläktGroup Clean Rooms meet challenging demands up to ISO Class 5 or even better to protect products from contamination.
Contamination Control
Supply air needs to be filtered in three stages with a HEPA filter at the third stage
Overpressure to the neighbouring rooms needs to be maintained at ca. 15Pa
All surfaces in the room must be smooth and easy to wipe clean with rounded corners and few joints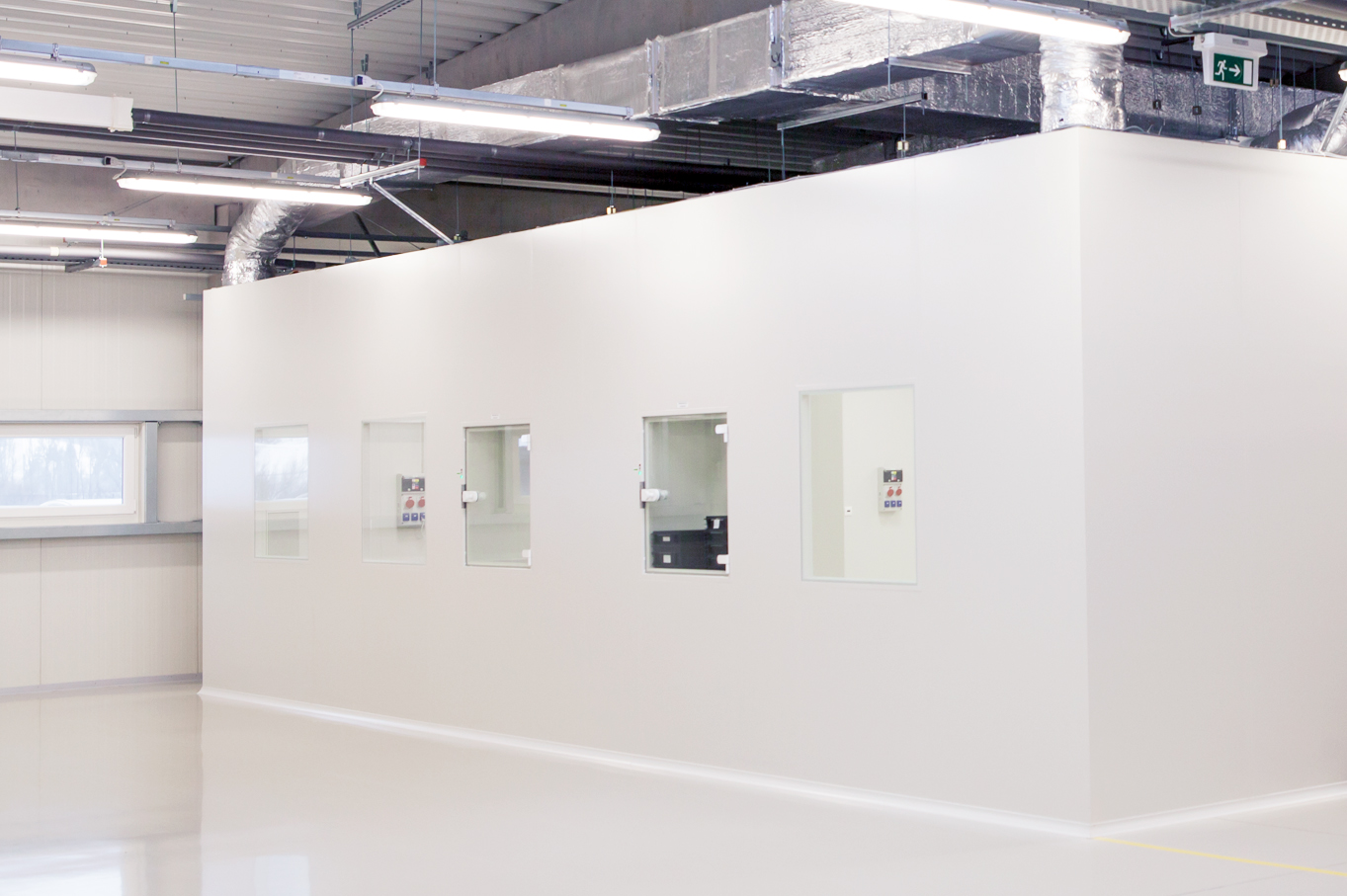 Tecnología para salas blancas de FläktGroup
Numerosos fabricantes internacionales trabajan con la tecnología de salas blancas de FläktGroup como resultado de nuestra experiencia en el desarrollo de métodos de control de la contaminación fiables y eficaces.
Las soluciones para salas blancas de FläktGroup permiten a los usuarios coordinar con precisión todos los parámetros críticos con los requisitos de los respectivos procesos de producción y controlar sistemáticamente la descontaminación del aire de la sala. Estas soluciones controlan la presión, la temperatura y la humedad del aire -especialmente la contaminación con polvo fino, partículas de piel y bacterias- y mantienen estos contaminantes alejados de los productos y procesos.
El diseño eficaz y preciso de las salas blancas es esencial para la producción de semiconductores y la industria farmacéutica, así como para las empresas de la industria química, la tecnología espacial y la tecnología óptica y láser que llevan a cabo la investigación y la producción; donde vemos que las condiciones de estas industrias dependen cada vez más de las condiciones de las salas limpias.
Los productos de calidad técnica, química y biológica con procesos de fabricación muy sensibles se procesan además en zonas herméticas que exigen un aire ambiente prácticamente libre de polvo. Sin embargo, el propio proceso de fabricación requiere un aire ambiente absolutamente libre de partículas.
Nuestro proceso
Ofrecemos una cartera completa de apoyo en cada paso del camino, desde el diseño 3D hasta la instalación, pasando por los informes para desarrollar su proyecto a medida.
Con décadas de experiencia en salas blancas, aportamos los conocimientos necesarios a su proyecto y le ayudamos a crear un concepto óptimo para la sala blanca, que sea energéticamente eficiente y fiable.
Una vez que el diseño de la sala limpia está finalizado, creamos un modelo 3D con todos los pequeños detalles, hasta el último tornillo.
Para que usted lo compruebe y para nuestra producción.
.
Todas nuestras fábricas trabajan con el enfoque de las 5S y tienen el mejor plazo de entrega en el sector.
En nuestras modernas instalaciones fabricamos rápidamente productos estandarizados, pero somos flexibles para apoyarle con soluciones personalizadas.
La instalación es una parte crucial del proceso. Especialmente para una sala blanca. De ahí que contemos con equipos muy bien formados en nuestros principales países. En todos los demás, un supervisor de la fábrica estará presente durante toda la fase de instalación.
Apoyamos la finalización de su proyecto con nuestros socios a largo plazo. Obtendrá un informe completo que cumple con todas las normas y reglamentos locales e internacionales. Y, por supuesto, puede estar seguro de que su sala blanca funcionará como es debido.
Contacto de ventas
Oficinas y contactos de terceros