2020-09-08
NEW HEAT PUMPS WITH LOW GWP REFRIGERANT R-454B (GWP 466)
With the new air-source reversible Heat Pumps incorporating the refrigerant R-454B we have created market leading solutions in terms of low global warming (GWP) refrigerants. With a GWP value of only 466, thus a reduction of 78% compared to traditional gases, the refrigerant is best-in-class within scroll technology.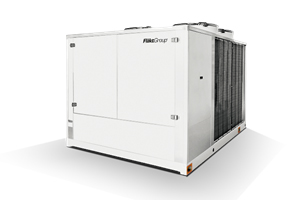 The air-source Heat Pumps of the unit series FGAH-BG with 4 scroll compressors and heating capacities from 151 up to 337 kW are now available. They extend the capacity range of the existing units FGAH-AG, which cover capacities from 53 kW by using 2 scroll compressors.
Air-source Heat Pumps with reversible refrigeration circuit are intended for space heating or cooling of commercial buildings such as offices, shops or hotels. The operation mode is switched seasonally. The units are ideal for combination with 2-pipe fan-coils in change-over execution. The energy is transferred via a water circuit.
Monovalent heating operation down to -15 °C outdoor temperature is possible, so that additional heat sources are not required in most regions. By using one device for both generating heating and cooling energy, considerable savings in investment costs are possible.
System temperatures up to 42 °C can be achieved at the lowest outdoor temperature in wintertime. The units offer excellent energy efficiency values, SCOP up to 4.4 (eta,s 172 %). They fulfill the ErP requirements of the directive 813/2013 EU easily. Furthermore, the choice of the refrigerant R-454B is absolutely in line with the objectives of the F-Gas directive, so that the system can be considered particularly future-proof.
Besides standard versions, the units are also available as super low noise (.SL) or highly efficient (.HE) version.
SL-units are best-in-class for locations nearby residential buildings or in city centers due to the reduced noise levels of 7-9 dB(A) combined with excellent SCOP values. 2 compressor units come with EC-fans as a standard, 4 compressor units are available with EC-fans as an option.
HE-units deliver excellent SCOP values. Electronic expansions valves are standard. 4 compressor units are equipped with EC-fans and shell and tube exchangers.
Click below to view the products.
FGAH-AG (2 compressors, 53-223 kW) >>