Kao Data Campus
Kao Data Campus Employs FläktGroup and Adia-DENCO Indirect Evaporative Cooling to Save Energy, Water and Maximise Efficiency
Today, maximising the efficiency of the data centre is every operators' goal. Pressure from government regulations, customer requirements, investors and other stakeholders is driving the industry towards effective design and utilisation of technical space within the facility.
Kao Data, recently the largest new independent entrant into the UK wholesale colocation data centre market, entered with technical leadership gathered from prominent global organisations. All aspects of the major development were considered from a technical and economic stand-point to ensure that the campus offered highly efficient space that was compliant with leading industry guidelines and standards, including ASHRAE TC9.9, OCP 'Ready' Facility, BREEAM, and a wide range of ISO requirements.
Paul Finch, COO at Kao Data says: "In a growth data centre industry, driven by consumer demand for data, the ASHRAE Thermal Guidelines provide a unique opportunity for data centre owners and operators to bolster their corporate social responsibilities, reducing the environmental impact of data centres in a manner which also makes both commercial and economic sense. Unlocking the free-cooling capability of Kao Data Campus was a key strategy to enable us to build a fully resilient facility which could provide a flexible response to customer requirements while delivering a class leading, ultra-low 1.2 PUE at all ITE loads."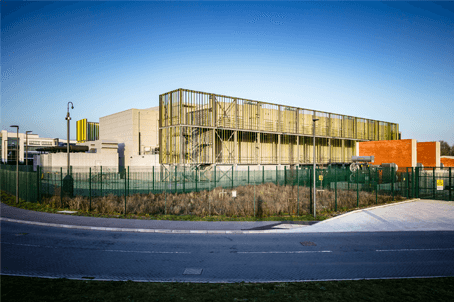 Working Collaboratively at Kao Data Campus
Kao Data had made the decision early on, to appoint as lead contractor the highly experienced M&E design and build contractor, JCA Engineering. This decision allowed a highly collaborative working relationship to develop, where engineering principles were used to quickly solve construction challenges.
With guidance from JCA, Kao Data investigated the opportunities for free-cooling alternatives for its campus' IT Halls. The two organisations believed that utilising non-mechanical cooling for the data centre was achievable in the UK, in compliance with the thermal guidelines. This would provide an opportunity to significantly reduce overall energy use at Kao Data Campus, whilst strengthening its corporate social responsibility and reducing the environmental impact of its data centres.
FläktGroup, has a long relationship with JCA Engineering, in consultancy, design and implementation of large volume, air handling systems (AHU), chiefly with the DencoHappel product lines.
Discussing the journey to a free-cooling IT space, Tom Absalom, managing director, JCA Engineering, states, "JCA quickly gained the confidence of Kao Data's senior management, as both sides were working towards a common goal, which at the time was unusual in the UK data centre market, one where mechanical cooling was eliminated from the design."
JCA and Kao Data visited the FläktGroup production site and were confident that the quality and capabilities of the AHUs were appropriate for the climate requirements for the data centre's IT Space. The FläktGroup AHU design team worked closely with JCA and Kao Data to understand the specific requirements of the Harlow based Kao Data Campus and designed an efficient free-cooling system that offers the flexibility to provide a controlled environment within the technical space of the 8.8MW data centre which was able to meet server manufacturer warranty requirements.
Paul Finch, COO, Kao Data stated, "We recognised that data centre availability and reliability can be complementary to both energy efficiency and sustainability. Reliable, effective and efficient cooling is intrinsic to data centre operations, and we knew FläktGroup's reputation both for the quality and range of their industry-leading cooling solutions. Together with JCA, we were in discussion with them very early in the planning cycle for Kao Data Campus and they quickly rose to the top of our shortlisted suppliers."
Meeting the Cooling Requirements at Kao Data London One
FläktGroup worked with JCA and Kao Data to analyse the potential IT load variables across the data centre IT space to determine the most effective cooling solution. With a potential energy load of 2.2MW per data hall, the client was focussed on delivering the vast-majority of that energy to IT use and not detract from the energy envelope to power refrigerated cooling systems. Power is the single largest operational cost within a data centre and of that, the mechanical cooling system is usually the biggest percentage, often higher than the energy used to run the servers and other IT equipment.
Yan Evans, Global Director of Data Centre Solutions at FläktGroup stated, "Understanding the client's varied requirements including energy efficiency, reduced environmental impact and cost of operations. Our solution was based on Adia-DENCO Evaporative Cooling Units, which are able to cool data centre environments without mechanical refrigeration equipment such as compressors and still achieve all three of the metrics set by Kao Data."
Adia-DENCO utilises local climate conditions for enhanced energy efficiency operation. Adiabatic cooling coupled with large plate heat exchangers, enables energy efficient customers, such as Kao Data, to achieve exceptional EER (Energy Efficiency Ratio) values.
FläktGroup Adia-DENCO in Operation at Kao Data
Now operational, phase one of the Kao Data campus, has implemented N+1 Indirect Evaporative Cooling (IEC), utilising 13x Adia-DENCO AHUs, providing highly efficient climate control within the Kao Data London One data centre. This configuration enables concurrent maintenance of the IEC's and also offers the required resilient back-up capability in the unlikely scenario of a unit failure.
To maximise the internal space for IT equipment, the cooling systems are mounted externally on the building adjacent to the IT Hall. The system is installed with dampers, weather guards and a weather roof to protect the equipment from the environment. In this wall configuration, any air that enters the unit is returned to the same side. Ambient air enters in the bottom of the unit and flows upwards through the plate heat exchanger.
Air returning from the white space enters in the top of the unit and is drawn downwards through the plate heat exchanger, allowing for cross flow against the ambient air (See diagram). Each IT Hall is approximately 9,500sqft and the 13-AHUs provide a net cooling capacity of 2.2MW (N) and airflow of 13.5m3/sec per unit into the data centre.
The installed units use reverse osmosis water which allows for the water to be reused for adiabatic cooling several times. This dramatically reduces flush cycles from every hour to typically once a week. This, combined with intelligent control software, allows for water use to be minimised, improving WUE (Water Usage Effectiveness) at Kao Data Campus.
Within the IT Halls, customer cabinets are in enclosures and utilise hot aisle containment, which enables higher density racks, up to 20kW, to be optimised using IEC cooling technology. The cooling infrastructure is designed around a conservative temperature differential of12°K. Applying the combined expertise of Kao Data, JCA and FläktGroup design team to the IT cooling system has enabled a re-imagining of the equipment needed and has greatly reduced the mechanical complexity of the data centre. This subsequently has positive effects such as increased energy efficiency (the Kao Data London One data centre operates with an ultra-low PUE <1.2 even at partial load), significantly reduced maintenance requirements and increased system reliability.
Paul Finch, summing up the development experience, said, "Our thoughts on the capabilities of free-cooling were brought to fruition through our development process with JCA Engineering and FläktGroup. Their expertise in this area is first class and the products met our highest expectations. The IEC system has introduced a level of energy savings that benefits our customers and our business, meeting our objectives to ensure first class levels of resilience and flexibility with low cost of operations."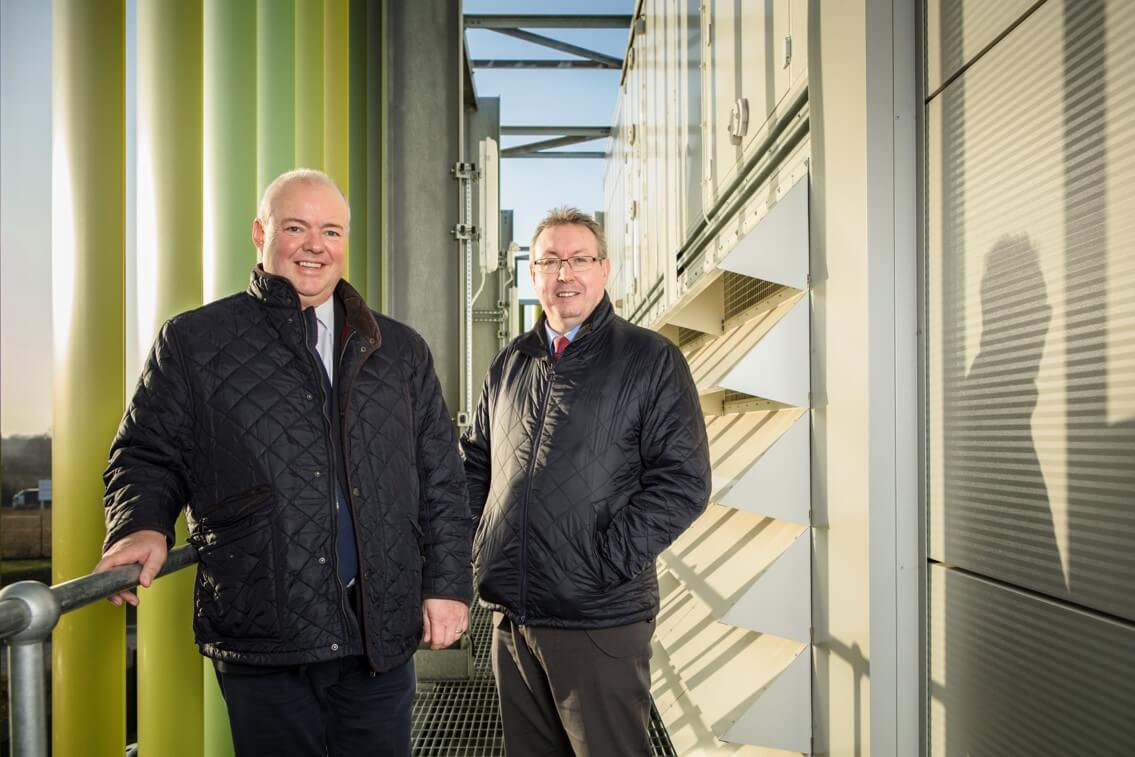 Adia DENCO
Indirect free cooling in combination with adiabatic humidification – this is the principle of the Adia-DENCO cooling system. This system, which has been especially developed for data centers, is based on the design of the well-proven CAIR air-handling units. It offers rated air flows up to 55,000 m³/h and cooling duties over 300 kW.
The design is flexible and tailored to your application. The extremely low annual operating costs of the Adia-DENCO cooling system enable its amortization after a short period.
View this product
Cookie Consent
In order to continuously improve the user experience on our website for you and to provide you with relevant advertising on our partner websites, we and our partners use cookies. Cookies store relevant information on your device for this purpose. Some information processed through the use of cookies on our website takes place in the USA. The protection of personal data in the USA does not meet the requirements in the EU, in particular there is a lack of enforceable rights that protect your data against access by government agencies. So there is a risk that these government agencies can access the personal data without the data transmitter or the recipient being able to effectively prevent this. Information about what data is processed in the USA and further general information on cookies and data protection can be found in our Privacy Policy.

Below you can choose to agree to the use of cookies and the associated processing of your personal data in the EU and the USA.

You can change your cookie consent settings at any time by accessing 'Cookie Settings' in the website menu. Here you can see in more detail which cookies you do not want to accept.
Necessary Cookies
Performance Cookies
Functional Cookies
Advertising or Targeting Cookies
More Details
Confirm Selection Use Necessary Cookies Only Accept All Cookies
Types of Cookies
These cookies are necessary for the specific functions of a website to be carried out. For example, such cookies are used when a user puts a product in the shopping cart and then continues to surf the site (or other sites) before proceeding to checkout. This means that his shopping cart is not deleted even after closing a browser window.​​
These cookies collect information about the behavior of users on the site and whether users receive error messages (if so, where and after which events). Loading times or the behavior of the website with different browser types are also measured with performance cookies.​​
Functional cookies​
These cookies are not absolutely necessary, but increase the "usability" of a website. For example, the location entered once is saved so that the respective user can immediately see this location when the page is called up again. Form data that have been entered, the size of the font or the like, can also be saved.​​
Advertising or targeting cookies are explicitly there to show the user advertisements that match their surfing behavior. You often notice the use of these cookies after you have been to online shops: Advertisements for this shop reappear on many websites visited afterwards, sometimes with a (deliberate) delay of a few hours to a few weeks. In online marketing, this is also called "re-targeting".​

Go Back