FläktGroup is the culmination of Fläkt Woods and DencoHappel which have, over the last century, continued to design, manufacture and market high-quality indoor air technology products. A keen focus on producing energy efficient and high quality system solutions forms part of the DNA of FläktGroup. This goal has always been at the forefront of product development since the outset of the company, particurlarly due to the requirements of the harsh climate conditions in the Nordics countries.
Focusing on the needs of our customers alongside a consideration for the environmentmal impact of our products, both inside and out outside, we have developed more long-lasting innovative products with reduced energy consumption. In this way, we play a major part in securing long-term sustainable, environment-friendly and profitable development for our customers and society at the same time.
On this page you will see an assembly of certificates obtained for FläktGroup products.
SELECTED CERTIFICATES FOR A SELECTION OF FLÄKTGROUP PRODUCTS & SOLUTIONS*
* Please do not utilize certificates that are not up to date. Written confirmation from authorized FläktGroup personnel on latest certificate in vigour is required. The certificates on this website are all updated regularly and are in force.
Patents & Trademarks
At FläktGroup we have:
232 Patents
577 Trademarks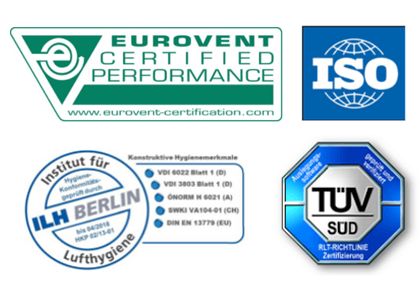 Click on the titles to view the certificates.
AIR MOVEMENT
AIR CONDITIONING & HEATING
Annex Certificates
including the locations according to annex
Cookie Consent
In order to continuously improve the user experience on our website for you and to provide you with relevant advertising on our partner websites, we and our partners use cookies. Cookies store relevant information on your device for this purpose. Some information processed through the use of cookies on our website takes place in the USA. The protection of personal data in the USA does not meet the requirements in the EU, in particular there is a lack of enforceable rights that protect your data against access by government agencies. So there is a risk that these government agencies can access the personal data without the data transmitter or the recipient being able to effectively prevent this. Information about what data is processed in the USA and further general information on cookies and data protection can be found in our Privacy Policy.

Below you can choose to agree to the use of cookies and the associated processing of your personal data in the EU and the USA.

You can change your cookie consent settings at any time by accessing 'Cookie Settings' in the website menu. Here you can see in more detail which cookies you do not want to accept.
Necessary Cookies
Performance Cookies
Functional Cookies
Advertising or Targeting Cookies
More Details
Confirm Selection Use Necessary Cookies Only Accept All Cookies
Types of Cookies
These cookies are necessary for the specific functions of a website to be carried out. For example, such cookies are used when a user puts a product in the shopping cart and then continues to surf the site (or other sites) before proceeding to checkout. This means that his shopping cart is not deleted even after closing a browser window.​​
These cookies collect information about the behavior of users on the site and whether users receive error messages (if so, where and after which events). Loading times or the behavior of the website with different browser types are also measured with performance cookies.​​
Functional cookies​
These cookies are not absolutely necessary, but increase the "usability" of a website. For example, the location entered once is saved so that the respective user can immediately see this location when the page is called up again. Form data that have been entered, the size of the font or the like, can also be saved.​​
Advertising or targeting cookies are explicitly there to show the user advertisements that match their surfing behavior. You often notice the use of these cookies after you have been to online shops: Advertisements for this shop reappear on many websites visited afterwards, sometimes with a (deliberate) delay of a few hours to a few weeks. In online marketing, this is also called "re-targeting".​

Go Back