FläktGroup is the culmination of Fläkt Woods and DencoHappel which have, over the last century, continued to design, manufacture and market high-quality indoor air technology products. A keen focus on producing energy efficient and high quality system solutions forms part of the DNA of FläktGroup. This goal has always been at the forefront of product development since the outset of the company, particurlarly due to the requirements of the harsh climate conditions in the Nordics countries.
Focusing on the needs of our customers alongside a consideration for the environmentmal impact of our products, both inside and out outside, we have developed more long-lasting innovative products with reduced energy consumption. In this way, we play a major part in securing long-term sustainable, environment-friendly and profitable development for our customers and society at the same time.
On this page you will see an assembly of certificates obtained for FläktGroup products.
SELECTED CERTIFICATES FOR A SELECTION OF FLÄKTGROUP PRODUCTS & SOLUTIONS*
* Please do not utilize certificates that are not up to date. Written confirmation from authorized FläktGroup personnel on latest certificate in vigour is required. The certificates on this website are all updated regularly and are in force.
Patents & Trademarks
At FläktGroup we have:
232 Patents
749 Trademarks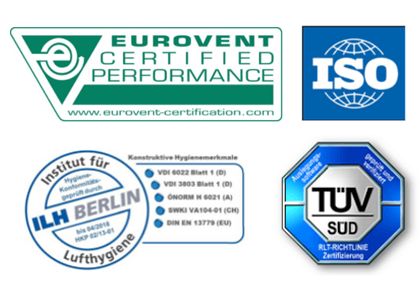 Click on the titles to view the certificates.
AIR MOVEMENT
AIR CONDITIONING & HEATING
MANUFACTURING
Annex Certificates
including the locations according to annex