WE ARE THE AIR HANDLING EXPERTS

WE ARE THE AIR HANDLING EXPERTS
Our AHU product ranges are developed to meet a select criteria in order that they achieve the best possible performance for any environment. At the top of the list of necessary credentials we ensure our units meet very high standards of energy efficiency, that they will maintain low levels of noise, particularly where the unit will be placed within the same space as people, and that the unit is of excellent hygienic standards.
Floor Mounted Compact Air Handling Units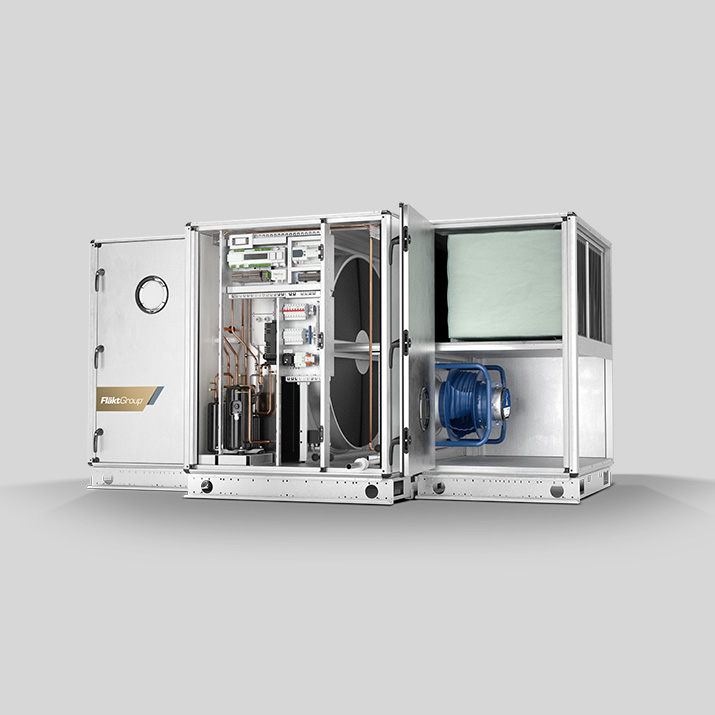 eQ PRIME
INTEGRATED HEATING & COOLING WITH ReCOOLER HP
Energy efficient components and integrated controls
Plug and Play installation
Short Delivery time
The eQ Prime is our standardized range of air handling units in compact casing that are part of the eQ family. The eQ Prime has energy efficient components such as ECBluefin, EC-motors, ReCooler HP and integrated controls. It offers a fully packaged air handling unit loaded with features needed to be the right choice concerning functionality and giving you low installation and operating costs.
Go to Product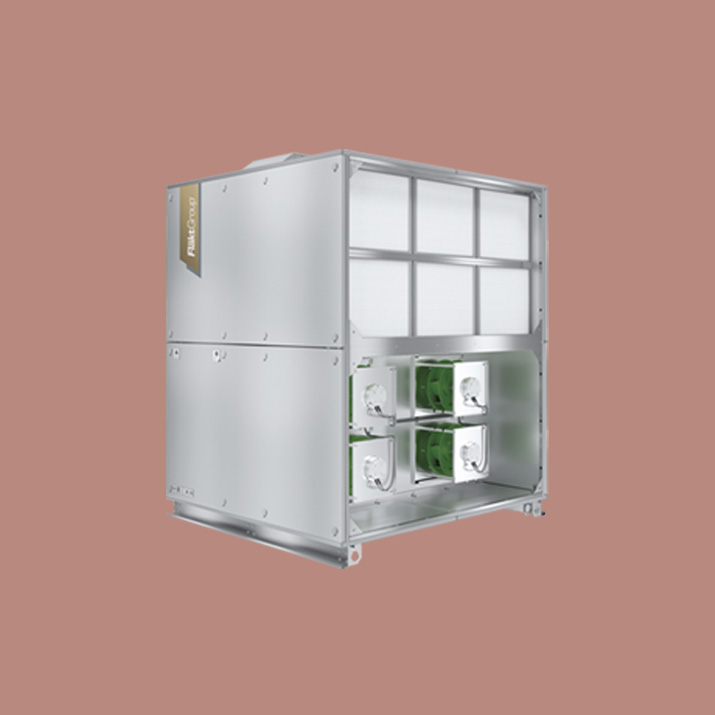 VQ STREAM
EXPRESS DELIVERY
Highly efficient rotary heat exchanger
Energy saving and silent fans with EC motors
Plug & Play
The vQ Stream Floor Mounted Compact Air Handling Units are energy saving devices intended for installation in technical rooms or alternatively outside the building. Available in 8 sizes with air flows from 840 m3/h to 16,500 m3/h. Equipped with integrated controls, EC Motors, mini-pleat filters and a highly efficient rotary heat exchanger, these units are able to achieve a heat recovery efficiency as high as 86%.
Go to Product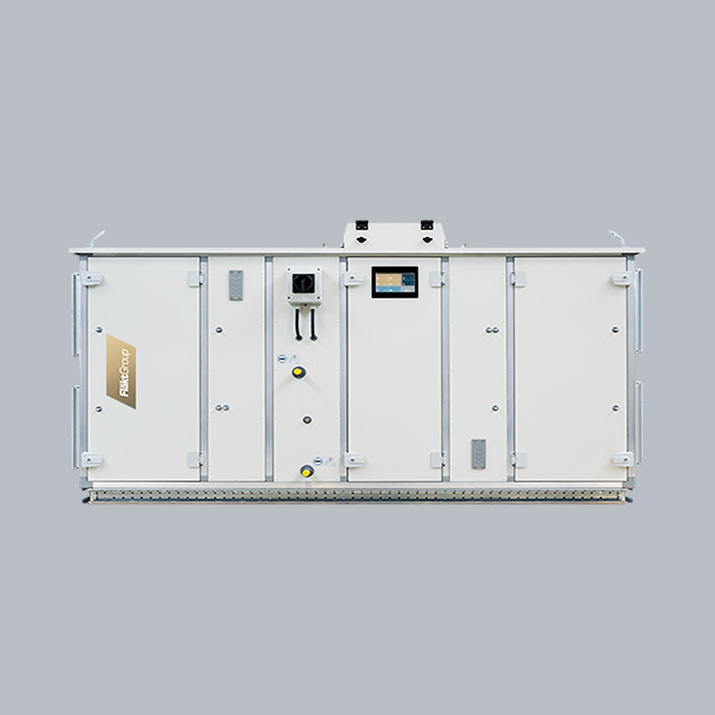 COM4 PLUS
HIGHLY FLEXIBLE OPTION
High performance solution with rotor
Plate heat exchanger solution for heating
Plug n' play design with webserver and BMS connection
The COM4plus product series is one of the most successful air handling units on the market. Based on the CAIRplus design, outstanding characteristics are also employed in the COM4plus units. The units are pre-designed in 1 to 3 easy-to-handle parts. The footprint is optimized, so handling and installation is done quickly. The inner unit design is based on hygenic demands. Using 3 doors the unit is open. So customers can perform easy maintenance, clean or inspect sections.
Go to Product
Ceiling Mounted Low Airflow Compact Air Handling Units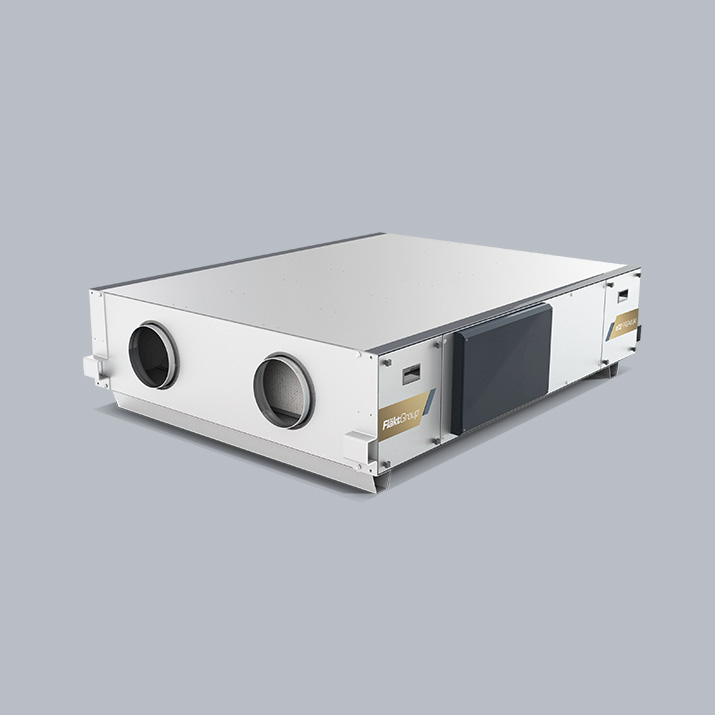 eCO PREMIUM
LOW NOISE
Up to 85% temperature efficiency
Low noise
Easy to use control system
eCO PREMIUM is a compact high performing AHU with energy recovery ideal for ceiling void installations. The unit is packed with features for clean, fresh air, high efficiency and with certified low noise it is ideal for sensitive installations like schools. Elaborate electronic control system, minimised maintenance, and most importantly high energy performance. In the new eCO PREMIUM, all of these features are fitted in a compact casing that fit even the smallest spaces.
Go to Product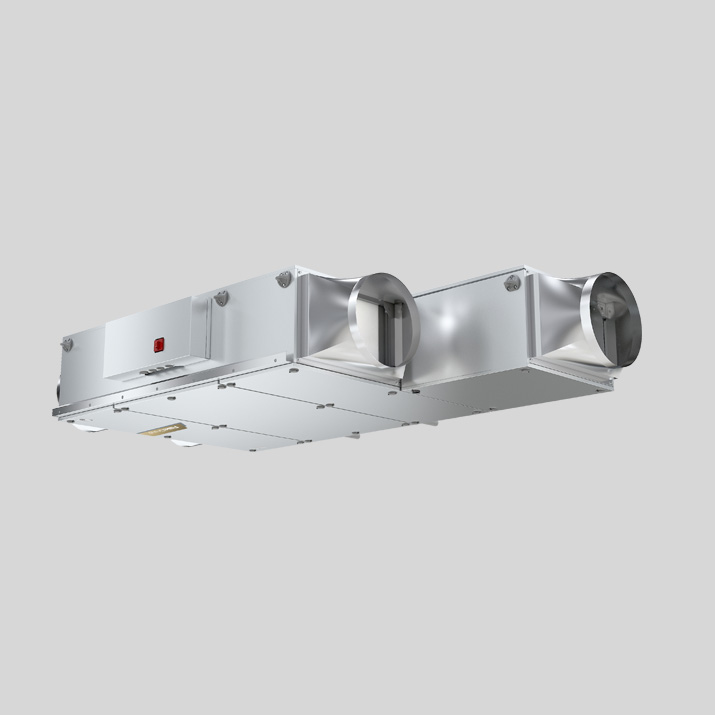 vQ STREAM
EXPRESS DELIVERY
Highly efficient counter-flow hexagonal recuperator
Energy saving and silent fans with EC motors
Plug & Play
The vQ Stream Suspended Compact Air Handling Units are energy saving devices intended for installation in the space under the ceiling. Available in 5 sizes with air flows from 150 m3/h to 3,300 m3/h. Equipped with integrated controls, EC Motors, mini-pleat filters and a highly efficient counter-flow hexagonal recuperator, these units are able to achieve a heat recovery efficiency as high as 92%
Go to Product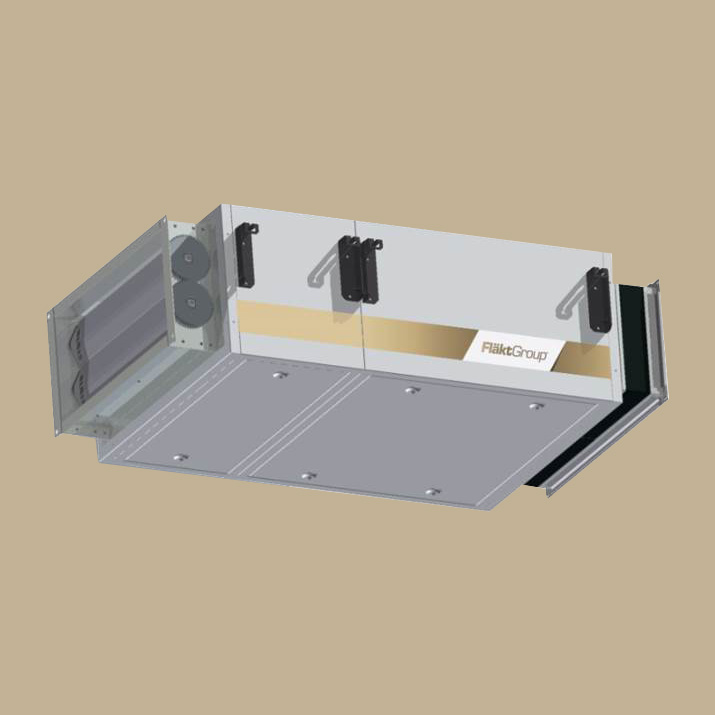 AT Picco
HYGIENIC CASING
Flat pack range of low-profile air handling units
Service friendly and hygienic frameless panel design
High performance heat recovery & low life-cycle costs
The power pack for the smallest space in a suspended ceiling requiring no construction changes in the interior architecture of a building. The AT Picco unit has all the available features that create feel-good indoor air climate and enhanced air quality
Go to Product
Modular Air Handling Units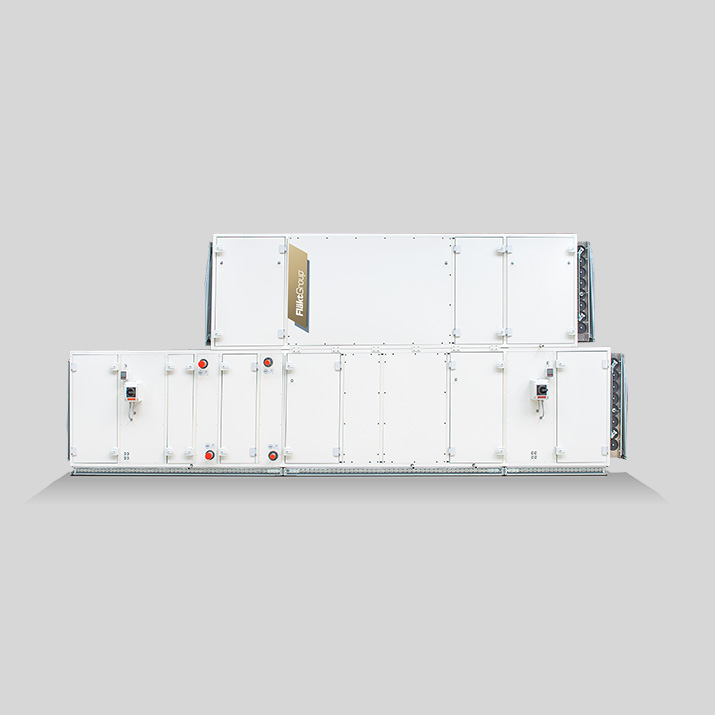 CAIRplus
UNLIMITED SOLUTIONS, INSTALLATION TYPES AND CONFIGURATIONS
Environmentally-friendly design
Intelligent modular design ensures easy handling on site
T2/TB2/L1/D1 Eurovent certified casing
The CAIRplus product series is the premium range of air handling units and can satisfy practically every demand. All functions and unit arrangements required by HVAC standards are available regardless of commercial or industrial applications. In addition, completely smooth inner surfaces and good access to all components ensure highest hygienic standards. High-efficient energy recovery systems secure an economical operation and bring benefits to the environment.
Go to Product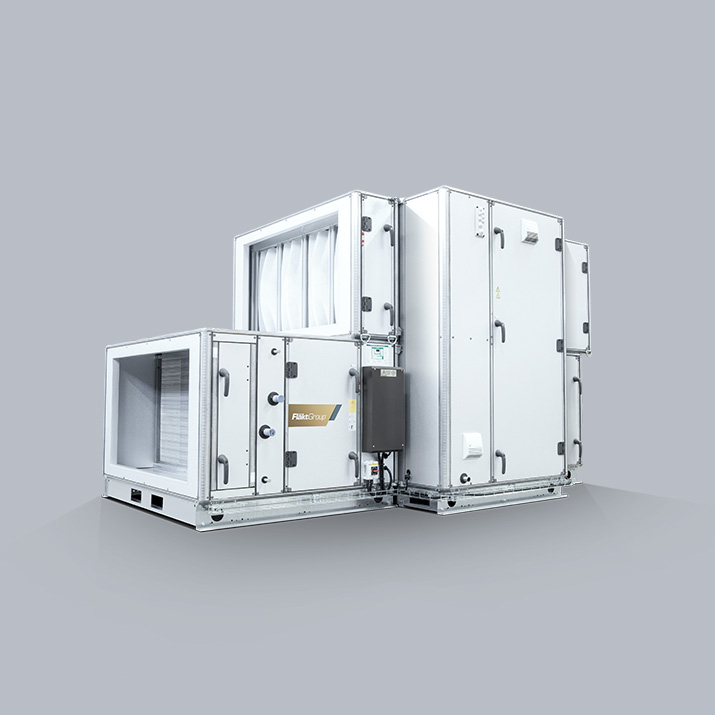 eQ Master
REMARKABLE ENERGY RECOVERY
Tailor made for customer needs
Energy Efficient and optimized with integrated control
Large variety of high efficiency components
The eQ Master is our range of flexible modular air handling units. The eQ Master has energy saving components such as FläktGroups Ziehl-Abegg Bluefin fans, PM motors, RegAsorp rotor, Econet intelligent run around coil recovery system, integrated heat pump and integrated controls. It offers a comprehensive range of heat recovery systems, filters, fans and other components packed in a hygienic and ergonomic casing to be able to meet the needs of most applications. eQ Master is available in 21 sizes with an airflow from 0.2 m³/s to 12 m³/s.
Go to Product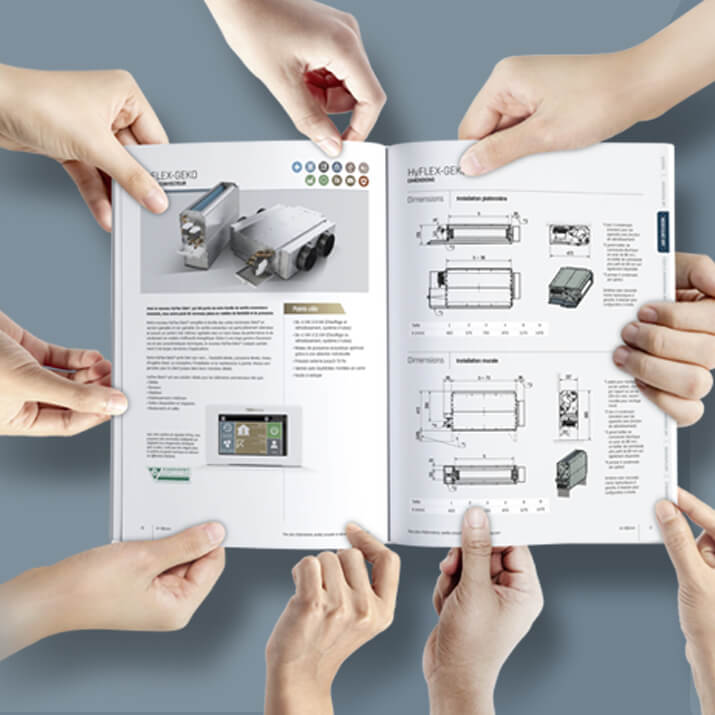 Documentation
Are you looking for technical documentation, market brochures or installation guides for our housing units? Use the search function or browse the folder structure to find what you need
View Documents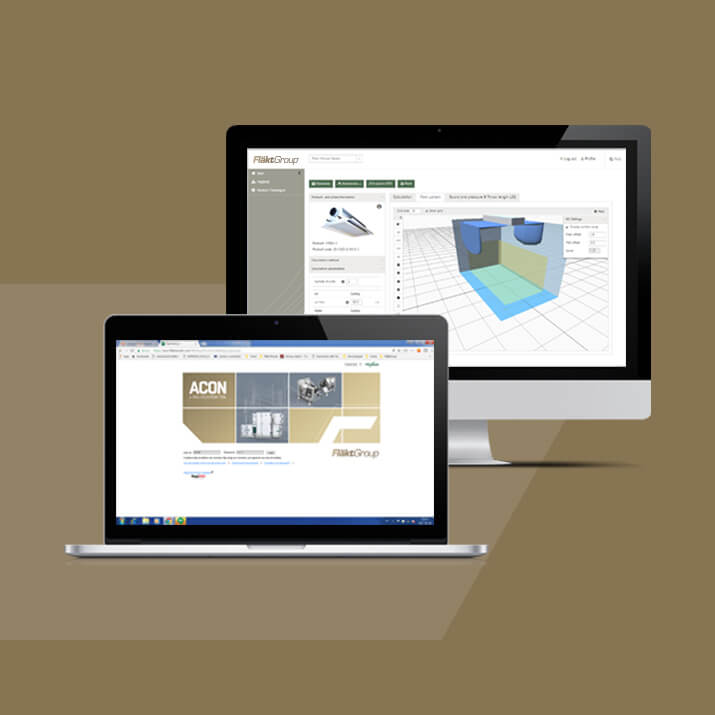 Selection Tools
Our product selection tools are available for rapid, simple and flexible configuration of the products within each of our different air function categories. Try them out today!
Access Tools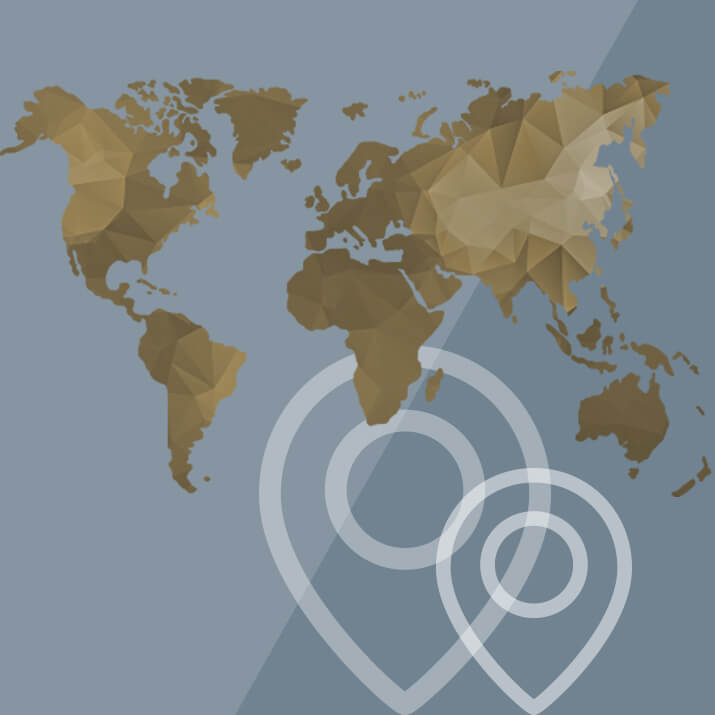 Contact us
We Care for Your Air. Please get in touch with a representative near you for more information about the FläktGroup offering in your location.
Get in touch
Consentimiento de uso de cookies
Con el fin de seguir mejorando para usted la experiencia del usuario en nuestro sitio web y ofrecerle publicidad relevante en nuestros sitios web asociados, nosotros y nuestros socios utilizamos cookies. Las cookies almacenan informan información relevante en su dispositivo con dicho objetivo. Parte del procesamiento de información de la información procesada mediante el uso de cookies en nuestro sitio web se realiza en Estados Unidos. La protección de datos personales en Estados Unidos no tiene los mismos requisitos que la UE; en concreto, no existen derechos aplicables para proteger sus datos del acceso de instituciones gubernamentales. Por ello existe el riesgo de que dichas instituciones gubernamentales puedan acceder a datos personales sin que el transmisor de datos o el receptor de los mismos pueda impedirlo de forma eficaz. En nuestra Política de Privacidad encontrará información sobre qué datos se procesan en Estados Unidos, y más información general sobre cookies y protección de datos.
A continuación podrá elegir si está conforme con el uso de cookies y con el procesamiento asociado de sus datos personales en la Unión Europea y en Estados Unidos.
Puede modificar sus ajustes de consentimiento de cookies en cualquier momento con tan solo acceder a «Configuración de cookies» en el menú del sitio web. Aquí podrá ver más detalladamente qué cookies no desea aceptar.
Cookies necesarias
Cookies de rendimiento
Cookies funcionales
Cookies publicitarias o de marketing
Más datos detalles
Confirmar selección Utilizar solo las cookies necesarias Aceptar todas las cookies
Tipos de cookies
Cookies necesarias
Estas cookies son necesarias para llevar a cabo las funciones específicas de un sitio web. Se utilizan, por ejemplo, cuando un usuario añade un producto a su cesta de compras y después sigue navegando por el sitio web (u otros sitios) antes de proceder a completar el proceso de compra. De este modo su cesta de compras no se borra, ni siquiera una vez cerrada la ventana del navegador.
Cookies de rendimiento
Estas cookies recogen información sobre el comportamiento de los usuarios en el sitio web e indican si estos usuarios reciben mensajes de error (y en tal caso, dónde y después de qué eventos). Las cookies de rendimiento también miden el tiempo que tarda el sitio en cargarse, o su comportamiento con distintos navegadores.
Cookies funcionales
Estas cookies no son absolutamente necesarias, pero mejorarán la «usabilidad» del sitio web. Por ejemplo, la localización introducida una vez queda ya guardada de modo que el usuario correspondiente pueda verla inmediatamente al volver a entrar en la página. También pueden guardarse datos de formulario que hayan sido introducidos, el tamaño de la fuente o similares.
Cookies publicitarias
Las cookies publicitarias o de marketing están ahí expresamente para mostrar al usuario anuncios publicitarios acordes con sus hábitos de navegación. Notará a menudo el uso de estas cookies después de haber visitado tiendas online: los anuncios de esta tienda reaparecerán en muchos sitios web que visite posteriormente, a veces con un retraso (deliberado) de horas o semanas. Esto se conoce en el mundo del marketing online como «retargeting».
Volver