Operating Theatre Ventilation
During an operation human life must be safeguarded to avoid contamination from the surrounding area.
CONTAMINATION CONTROL IN HOSPITALS
Safeguarding human life at it's most vulnerable
To understand HVAC solutions within an operating theatre we must first be aware of the varirty of risks. Our specialist hospital ventilation solutions have been developed to meet the specific needs of this application type.
During an operation contamination can come from 2 main sources.
Engogenous, which essentially comes directly from the patients skin or body matter; or from an infected prosthesis or implant.
Exogenous, which comes from the surrounding environment or surgical staff and their equipment.
The understanding of the above leads us on to consider such things as direct and indirect contamination. Direct meaning items that will directly be place in contact with the patient during surgery such as surgeons hands and instruments. Indirect is therefore contamination which might come from dust in the air, droplet nuclei, even the fibres in clothing or airborne infectious diseass.
What is needed
Supply air needs to be filtered in three stages with a HEPA filter at the third stage
Low turbance airflow above the operating table (almost laminar)
Overpressure to the neighbouring rooms needs to be maintained at ca. 15Pa
All surfaces inside of the room should be smooth and easy to clean – rounded corners, reduced numbers of joints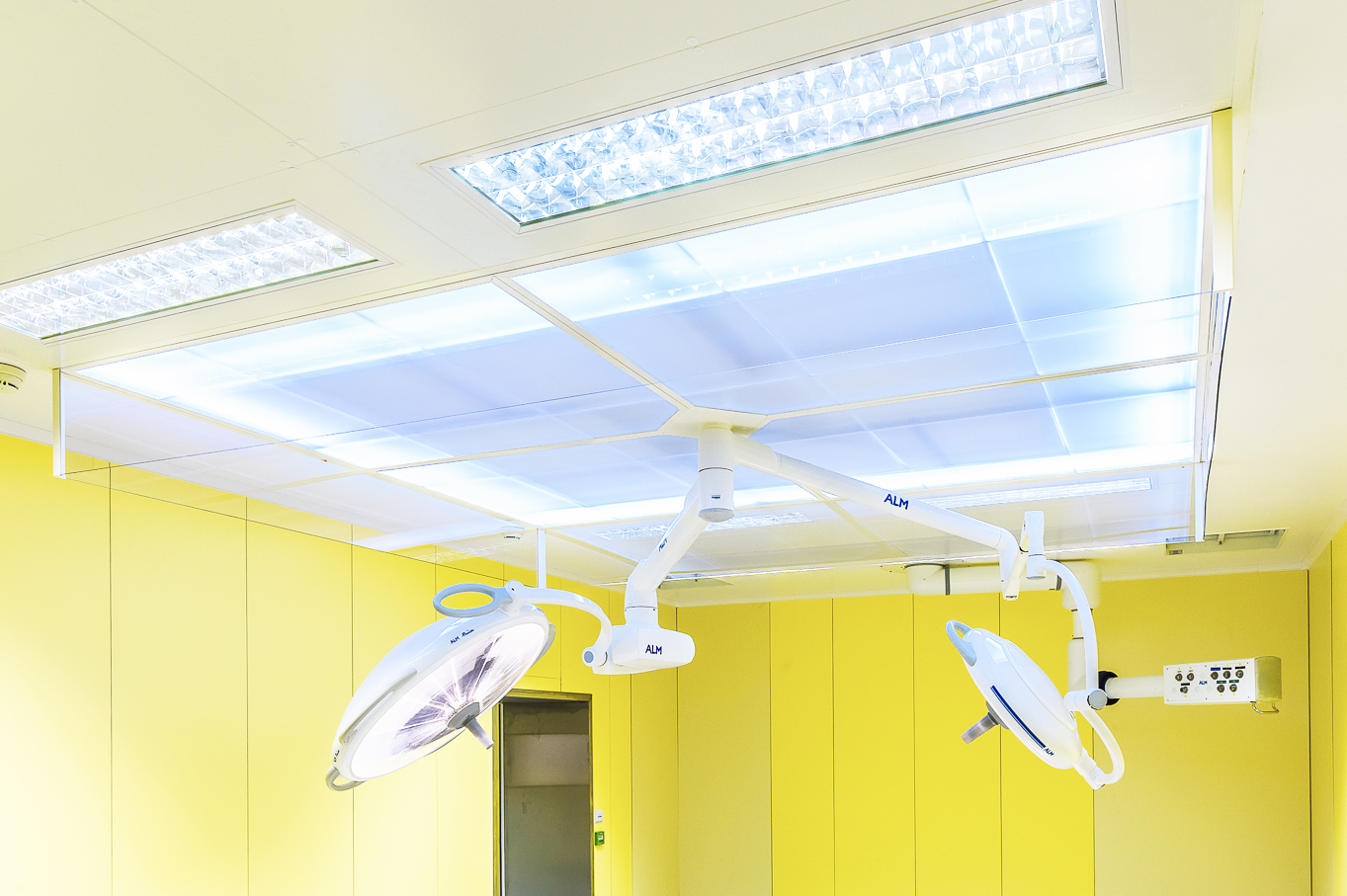 To create a safe environment to carry out medical operations for both staff and patients operating theatres must meet stringent codes of cleanliness.
Clean room ventilation presents some of the most complex challenges for air treatment. Clean rooms demand absolutely top standards of competence, sophisticated air treatment, as well as specific experience for clean rooms that you can trust. Clean Rooms must satisfy all international clean room standards and ISO classifications and the need too exceed conventional quality levels.
Clean rooms must conform to a specified, monitored level of contamination that is specified by a number of particles per cubic meter with a specified particle size. For example, an operating room requires a minimum of ISO Class 7, which allows 352,000 particles per cubic meter in the size range from 0.5 μm to 5.0 μm. An ultra-aseptic operating room can require ISO Class 5, which allows 3,520 particles in this particle size range. In comparison, the ambient air outside in a typical urban environment contains 35 million such particles.
FläktGroup customers profit from our comprehensive overall expertise in room air handling and filter technology. In contrast to other providers, we cover the entire process of air treatment and air filtration for supply air and extract air systems. We understand the interrelationships and manage them down to the smallest detail. As a result, we can offer highly effective, process-dedicated package solutions with energy-efficient technology – optimized for your sector and applications. Efficient Heat Recovery Systems and reliable Air Filtration Systems with low pressure drop assure considerable energy savings.
We deliver turnkey solutions on a one-stop shopping basis: beginning with building elements such as ceiling grid modules, filter and panel ceilings, laminar flow ceilings, room walls, wall paneling, windows, and doors – including development and installation of your clean room ventilation facilities and extending to after sales service.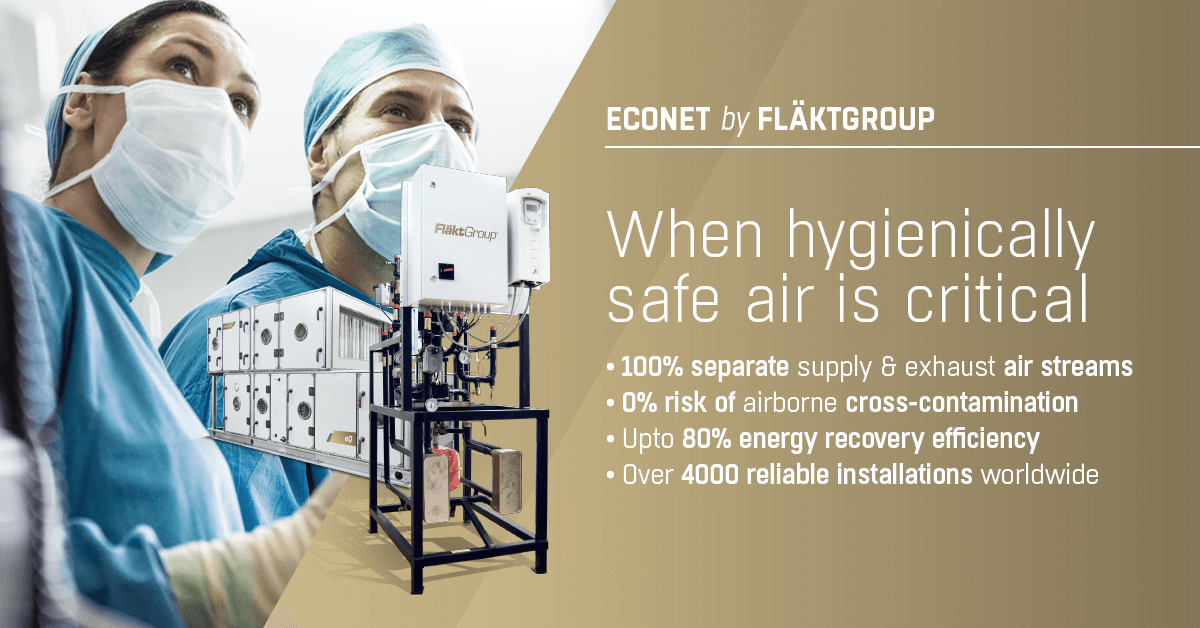 The Econet Premium - Eliminate the risk
Separated air flows completely eliminate the risk of transfer airborne infectious disease, bacteria or pollution.
There are many building types and application which will benefit from 0% cross contamination. With Econet it is possible to recover heat from sections of the buildings which are normally not used for heat recovery such as garages and restaurant kitchens. This feature will increase the energy performance of the building.
Econet Premium is the smart solution for efficient energy recovery and truly hygienic air quality with many benefits.
eQ Master or eQL modular air handling units with Econet guarantees no cross contamination or odour transfer. Ideal for hospitals, residential buildings, pharma and microelectronic industries.
View product
Sales Contact
Oficinas y contactos de terceros