Customer: Deerns Netherlands
Need: Energy efficient solution for datacenter of one of the largest hospitals in the Netherlands
Solution: Special AHU for datacenters (Adia-Denco)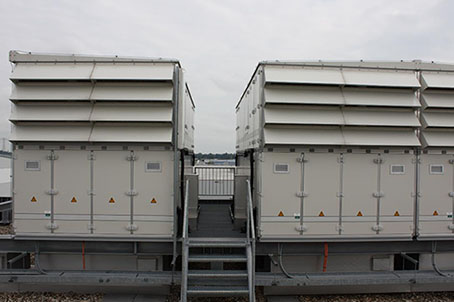 The CAIRplus product series are the premium range of air handling units and can fulfill almost every demand.
In addition, completely smooth inner surfaces and comfortable access to all components ensure the highest hygienic standards. High-efficient energy recovery systems ensure an economical operation of the AHU's and care for the lowest carbon footprint possible.
The data traffic of the UMCG is growing exponentially. Therefore, the UMGC built a new energy efficient and sustainable data center at the Eemspoort industrial site. The UMGC set high standards for the protection of information and ensuring the continuity of IT processes.
For this reason, Mark Visser, Project Manager at Deems decided to go for an installation concept that complies with the standards of TüV level 3, which is the second highest level when it comes to data protection and guaranteeing the continuity of IT processes. Availability of data is key; thus, on the one hand the electricity supply has been carried out redundantly to ensure that the servers are supplied with power at all times.
On the other hand, sufficient cooling is also crucial. The servers release a lot of heat, which must be cooled and drained. Also the chillers are redundant; four are sufficient, but there are two in reserve. This way, one of the chillers could be shut down for maintenance and there is always a backup, should one of the units exceptionally fail.
Apart from the availability of the data, the emphasis was also placed on energy efficiency and sustainability. A data center consumes a lot of energy to run the servers and to cool the heat released by the servers.
The patented concept "Green Cooling for Data Centres" by Deerns allows the inside air to be cooled by the outside air in an innovative manner, so that the data center can operate without chillers, enabling a low PUE value of 1,17. This Power Usage Effectiveness value measures the total energy usage with respect to the energy used for, for example IT resources and servers.
Thanks to the use of special heat exchangers on the roof for cooling, the data center is one of the most energy efficient of the country. The cooling is based on the so-called indirect air-cooling principle, enabling a low energy need to cool the data center. FläktGroup provided Adia-Denco units for this means, which uses outside air and regenerated rainwater for indirect air-cooling.