2019-09-05
In-tunnel thrust doubled in Montgomery Tunnel, Brussels
Independent measurements carried out by Université Libre de Bruxelles (ULB) have indicated a doubling of the in-tunnel thrust, when conventional jet fans were fitted with MoJet® outlet silencers in the Montgomery Tunnel, Brussels.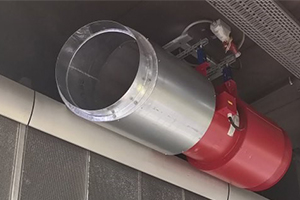 MoJet® is a technology patented by Mosen Ltd for sustainable and energy-efficient tunnel ventilation. Mosen Ltd are leading consultants in tunnel ventilation, fire safety engineering, risk management, tunnel safety and Computational Fluid Dynamics (CFD).
The jet fans were supplied by Fläkt Woods, an international provider of air movement and ventilation solutions. Attenuators incorporating MoJet® technology were fitted to the supplied jet fans in an attempt to improve the arduous installation conditions.
The results of the tests and background research will be presented at the forthcoming 18th International Symposium on Aerodynamics, Ventilation & Fire in Tunnels in Athens, Greece, being held on 25th – 27th September 2019.
For more information regarding this press release, please contact
Dr Fathi Tarada of Mosen Ltd on +44 1342458427, email info@mosen.global
or
Jessica Hitchcock of Fläkt Woods, email jessica.hitchcock@flaktgroup.com
9th August 2019