2019-09-04
NEW FULL INVERTER CHILLERS WITH R-1234ze AND R-513A SET TECHNOLOGICAL MEASURES
Future-proof chilled-water solutions are now available for large projects from 380 kW upwards from FläktGroup.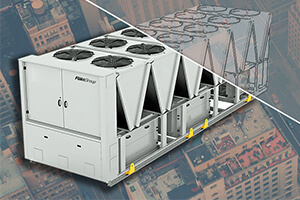 We are proud to launch two new series of air-cooled chillers from our FGAC product line. With significantly high SEER values ​​of up to 5.3 (ηs,c 208%), the requirements of the ErP-2021 of ηs, c ≥ 179% are far exceeded. By using alternative low GWP refrigerants, the units are in line with the F-Gas Regulation.
The FGAC 2220-3722 AE2 series with outputs from 477 to 1700 kW and the refrigerant R-513A are characterized by the high volumetric performance of the refrigerant and the associated ideal cost-per-kW ratio. It is ideal for projects where alternative refrigerants with reduced global warming potential (GWP) are to be used. With a value of 631, the GWP is reduced by 56% compared to the traditional refrigerant for screw compressor R134a. Due to the safety class A1 (non-flammable / no flame propagation) of the refrigerant, the devices can be used equally.
The device series FGAC 2220-3782 AF2 with outputs of 383 to 1460 kW and the refrigerant R-1234ze sets the highest environmental standards; this is thanks to the very low GWP value of only 7. With these solutions, the standards of the future are already being achieved today. In various building certifications extra points can be gathered.
Both units are equipped with quality components such as two or three screw compressors each with integrated inverter, electronic expansion valves, micro-channel condensers, and optimized dry expansion shell and tube heat exchangers. For special acoustic requirements, the devices are available in a particularly quiet design. Various optional extras and accessories are available, such as built-in pumps or BMS interfaces to complete the package.
These news Chillers can be utilised as part of the solution for providing efficient, environmentally friendly and high comfort air conditioning for commercial buildings such as hospitals, universities, hotels, office buildings and many others.
Visit product page here:
FGAC 2220-3782 AF2 (R1234ze - Full Inverter Screw 382-1458 kW)
FGAC 2220-3722 AE2 (R513A - Full Inverter Screws 477 - 1700 kW)