Spare parts
With our comprehensive AHU spare parts list and HVAC spares parts inventory we are able to quickly answer your needs. Our efficient logistics and factory authorized technicians also guarantee experts replacement and fixes.
A missing spare part can compromise unit availability and cause production losses. It is good to know that the specialists from FläktGroup ensure a fast and smooth exchange process.
With our comprehensive spare parts list we are able to quickly answer your needs. You can rely on us to deliver a solution to meet your customers' needs, and to help you be more productive, profitable, and knowledgeable. Along with our technical expertise, we focus on providing customers with the best availability of parts, as well as all of the ancillary parts and supplies needed to support your entire job, from start to finish.
To increase the life of your units we always recommend the use of genuine spare parts. Together with our recommended maintenance schedules, this will guarantee year on year trouble free operation of your units.
FläktGroup keeps stock of the most commonly used spare parts and is also able to help you with supplying those spare parts which are less commonly used. Our well trained service technicians together with our OEM suppliers are more than capable of recommending you the correct part required.


Recommended spare part categories:
Electric motors
Controls
Sensors and transmitter
Condensate trays
Filters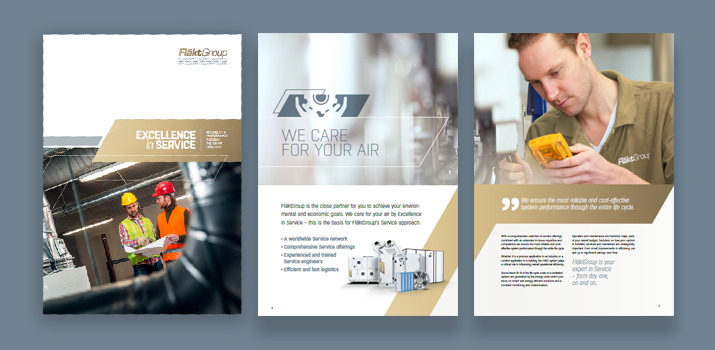 EXCELLENCE IN SERVICE
FläktGroup is the close partner for you to achieve your environmental and economic goals. We care for your air by Excellence in Service – this is the basis for FläktGroup's Service approach.
View Service Brochure