"Höglandssjukhuset" Hospital
In 2012 FläktGroup (then Fläkt Woods) were proud to deliver the DIF-OT ceiling filter system and air handling units to provide a safe and comfortable operating environment in the Hybrid Operating Theater at the "Höglandssjukhuset" Hospital in Eksjö, Sweden. When validating the system the validation manager Lars Jansson expressed with satisfaction "It's the best OT I ever measured". This is a testament of the quality of the FläktGroup products and our ability to integrate our systems into critical environments where safety, performance and economy go hand in hand.
Customer: Eksjö Höglandssjukhuset Hospital
Need: Ceiling filter system and air handling units to provide a safe and comfortable operating environment in the Hybrid Operating Theater
Solution: UCV system implementation with the DIF-OT optimized velocity laminar flow HEPA filter.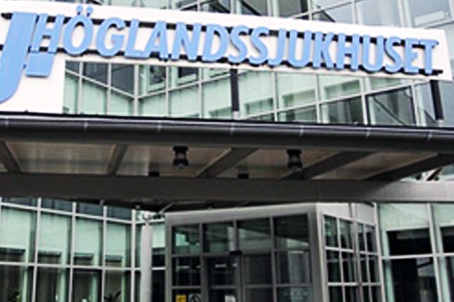 To avoid infection, as standard procedure, antibiotics are often prescribed prior to surgery as prophylaxis. However Nosocomial infections are increasing due to antibiotic resistance and coupled with the drastic decline in discovery of new drugs, operating theaters all over Europe are being upgraded in preparation to a possible future without effective antibiotics.
In 2010, the Eksjö Höglandssjukhuset hospital took that important decision to upgrade their operating theaters comprising installation of a new Hybrid Operating Theater and the cosmetic refurbishment of two existing theaters. The hospital executes around 40 surgeries per day both in planned and emergency operations hence the new Hybrid Operating Theater will cater for infection sensitive operations.
The advanced Hybrid Operating Theaters allows for continuous robot angiography X-ray during the operation for precise and safe results. The goal was to create a safe and functional theater adhering to Ultra Clean Ventilation (UCV) requirements of the demand of maximum <10 Colony Forming Units (CFU) in an infection sensitive environment, whilst allowing for quick -operation change over in a comfortable draft free environment. The HVAC system should be designed taking Life Cycle Cost (LCC) into account, have monitored installations and real time monitoring.
FläktGroup proposed a system solution with leading technology DIF OT ceiling HEPA filtration supplied by two eQ Air Handling Units (AHU) to create the optimized Ultra Clean Ventilation (UCV) environment in compliance to regulatory demands and fully incorporating surgical practices.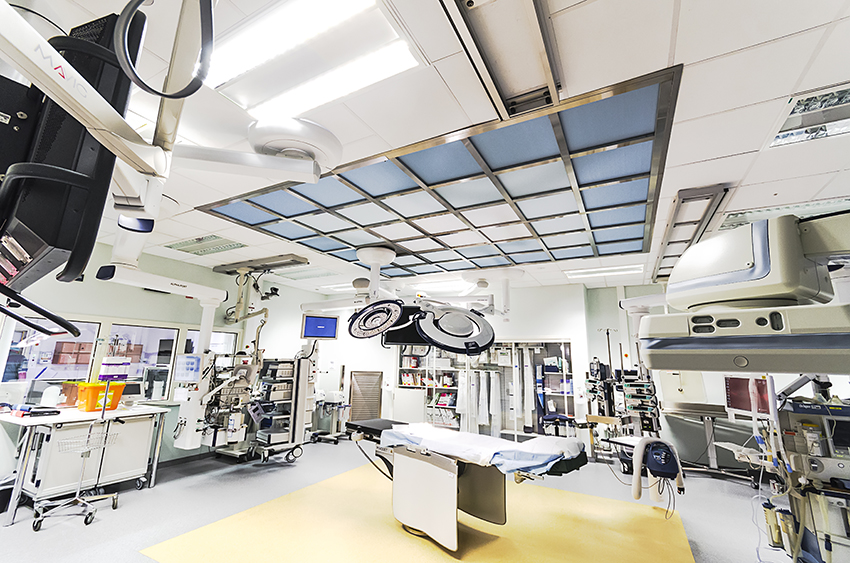 THE DIF-OT SYSTEM
DIF-OT is a ceiling HEPA filter system is an Ultra Clean Ventilation (UCV) system designed for operating theatres requiring ISO5 Clean Room Classification which applies to transplants, heart surgery, orthopedics and neurosurgery.
The system provides differential airflow velocities from the centre towards the perimeter of the treated zone, ensuring a constant and efficient purging of the surgery area. The laminar airflow diffusion eliminates induction and prevents contaminated air from entering the operating area, without the need for restrictive guide curtains.
SPECIFICATIONS
The operating theater measuring 12 m x 9.5 m, should be fully radiation protected according to regulatory SSM demands (3 mm lead plate). The room is to be supplied with fresh air for occupant requirements and re-circulated air for energy efficiency. Energy recovery system within the AHU is also required to provide an economical and energy efficient facility.
CONSTRUCTION AND FUNCTION
The DIF-OT unidirectional ceiling filter system produces a controlled distribution of the filtered air via absolute filters above the operating area. The air diffusers are integrated with absolute HEPA filters to obtain an optimized unidirectional air flow above the surgical area.
The system creates differentiated air flow velocities, with the highest velocity generated in the centre of the treated zone, thus ensuring a constant and effective purging of the operating area.
An integrated filter equalizer maintains the necessary air uniformity, even at low speeds.
DIF-OT filters are available in different sizes, in an air flow range from 5000 to 9500m3/h, in order to satisfy the requirements of all standard operating room environments.
FEATURES OF THE DIF-OT CEILING SYSTEM
Differential flow velocities
ISO5 classification
No induction
Low velocity
PRODUCT FACTS
Stainless steel AISI 304 frame
HEPA filters H14
Filters with integrated equalizer (synthetic cloth)
Dynamic seal
IMPLEMENTATION
The system was designed by Dahlgrens Konsult in Gothenburg, with NCC as main contractor. FläktGroup were awarded the contract in May 2012, through open tendering with the best total offering. The system was delivered by FläktGroup (then Fläkt Woods) in October 2012, and installed by Sydtotal with integrity testing and final system validation performed by Projektengagemang in March 2013.

The validation process comprised: particle measurement, CFU measurement and differential pressure measurement, was carried out during surgery in compliance to SIS Technical specification" Microbiological cleanliness in Operation theaters – prevention of airborne contamination – guidance and elementary demands" SIS TS39:2012 and ISO 14644-3. The resultant CFU count of less than 5 (often less than 1) was well within the <10 CFU requirement and was the best results the Operating Theater validation manager had experienced.