FLÄKT WOODS TO FLÄKTGROUP
2002-2016
2016 - Following the successful purchase of the Fläkt Woods Group by private equity investment firm Triton, the merger with DencoHappel is now initiated.
2014 – Fläkt Woods acquires majority of the shares of ClimateConsult, a Danish based Company specializing in ventilation and fire safety.
2013 - Fläkt Woods has sold its Global Infrastructure and Industry business to Howden, a subsidiary of the US listed company Colfax.
2012 - Fläkt Woods acquires part of the shares of Iloxair, a Finnish based Company specializing in Energy Recovery Units
2011 - Fläkt Woods sells Symor with related assets and rights to Temet Oy in Finland.
2009 - Fläkt Woods acquires Caryaire Air Management Systems in India and Airchal in France.
2007 - Fläkt Woods acquires SEMCO Incorporated in the USA.

2007 - Fläkt Woods is acquired by Sagard, Barclay's Private Equity, ICG and the management.
2002 - The Fläkt Woods Group is formed. The new group brings together two of the world's leading names in the 'Air Movement and Treatment' industry, namely Fläkt and Woods Air Movement. The group also owns other important brands including, for example, Solyvent Ventec and American Fan.
SVENSKA FLÄKTFABRIKEN (SF)
1976-2001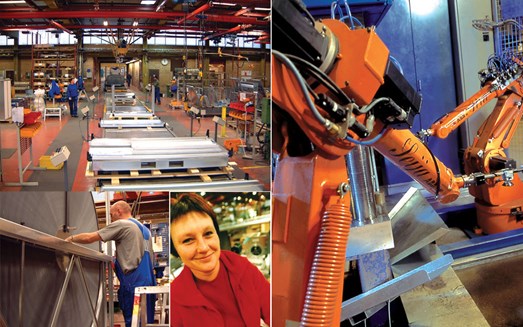 2001 - ABB announces that the Air Handling Equipment Business Area of ABB has been acquired by Global Air Movement SARL (Luxemburg).
1993 - ABB Fläkt Produkt AB is formed through a merger of Fläkt Klimatprodukter AB in Jönköping, Stratos Ventilation Produkt AB in Enköping, Fläkt Veloduct AB in Järna and AB Richard Pettersson Products in Aneby.
1988 - ABB is formed and the remainder of the Fläkt shares is sold to ABB. The Fläkt group including Stratos forms a Business Area within ABB.
1987 - The Fläkt group acquires the Bahco Company in Enköping, which is then renamed Stratos.
1986 - Fläkt's first turnkey clean room facility was inaugurated.
1984 - ASEA re-acquires a majority share holding of the Fläkt Group.
SVENSKA FLÄKTFABRIKEN (SF)
1936-1975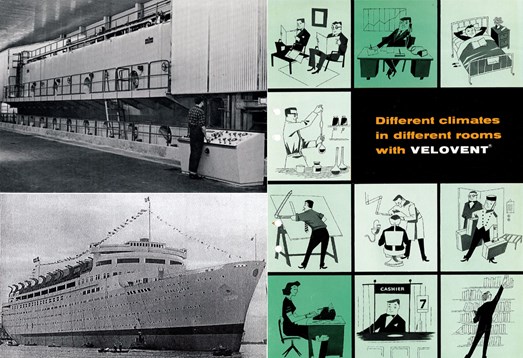 1973 - To meet the needs of the energy crisis, SF launched the ECOTERM system. The rotary heat exchanger REGOTERM and the plate heat exchanger RECUTERM soon followed.
1963 - SF FLAKT PAPER DRYER is presented to the press. The construction is a Fläkt innovation of significant dimenstions, as it enables mechanical drying of paper without as good as any voltage at all.
1960 - AB Svenska Fläktfabriken becomes an independent company, listed on the stock exchange.
1953 - SF launches the VELOVENT system for office applications, a system that combined heating and ventilation. During the 1970s, VELOVENT was developed to OPTIVENT.
1937 - SF got a unique order to deliver the ventilation solution to the cruise ship M/S Stockholm. SF supplied all the cabins in both first class and couch with their solution.
Picture: SF Flakt Paper Dryer, M/S Stockholm from 1938, old Velovent sales brochure.
Svenska Fläktfabriken (SF)
1918-1935
1932 - The Krüger empire crashes and the Swedish electrical company ASEA takes control of Svenska Fläktfabriken. The number of employees in Jönköping grows to 890 people
The 1930s - the first large laboratory for technical and scientific research was inaugurated in Jönköping
1927 - AB Krüger & Toll took over the share majority of Svenska Fläktfabriken
1925 - SF started its production of heating and ventilation units
1920 - SF formed limited liability company Svenska Fläktfabriken AB
1918 - Engineers Sven Söderberg and Robert Sundström started a company, which they name Svenska Fläktfabriken Söderberg & Co. Production starts in a mill by the Dunkehalla river in Jönköping, Sweden.