2019-01-30
THE NEW AIR-COOLED INVERTER FGAC CHILLER FOR SMALL CAPACITIES
The new air-cooled inverter chiller FGAC 1005-1014 CD 4/1 from FläktGroup is available with immediate effect. The new series is characterized by a very high SEER value up to 4.7 (or ηs,c up to 185 %).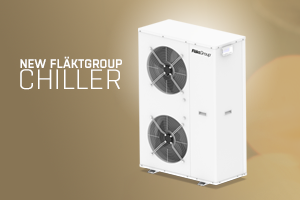 10 unit sizes with cooling capacity from 4 to 35 kW. Depending on unit size, unit versions are available as 230 V and/or 400 V/3 phases + N.
With the built-in high-efficiency pump an easy Plug&Play installation is guaranteed and the requirements of the ErP2021 are fulfilled. This means a high degree of planning security for our customers. Hydraulic components such as safety valve and flow monitor are mounted inside the unit by the factory. The optional use of a Modbus interface, substructure buffer tanks and a corrosion-protection coating for the condenser means that extension of project-related functions is easily possible.
The units are intended for comfort application. The refrigerant R-410A is used.