2019-06-14
MAXIMISE THE POTENTIAL OF YOUR eQ MASTER AHU
FläktGroup has extensive know-how and long experience of delivering the best possible balance between comfort and optimised energy consumption performance from our Air Handling Units.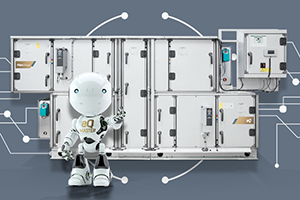 Easy to select in ACON with complete documentation
New functions for higher efficiency and better comfort
Up to 2/3 lower investment cost
Easy installation

With our new integrated control for eQ Master you can take advantage of FläktGroup's expertise and the enhanced functionality through easy and fast configuration in our selection tool ACON. You get full documentation including specific wiring diagrams – as easy as with a compact unit. In addition, the installation and commissioning is easier and faster through M12 connectors at block joints and because the control system is pre-configured and factory tested.
COMPLETE SELECTION AND CONFIGURATION IN ACON WITH FULL DOCUMENTATION AND WIRING DIAGRAMS
The complete integration with our ACON selection tool mean that it is much easier for consultants to specify a high comfort energy efficient solution, that is optimised and pre-configured on delivery. And by eliminating 3rd party suppliers both costs and quality issues can be radically reduced. ACON offers unique selection possibilities when it comes to controls and full flexibility, already in the specification phase. When the controls are configured, you can find the wiring diagram, the controls schematics, the description of operation, the component list and the manuals in ACON.
EASY AND FAST INSTALLATION AND COMMISIONING
An AHU from FläktGroup with factory fitted controls is always easy to install and commission. Factory fitted control components means less installation work on site and one supplier of the complete AHU system, means a single source of responsibility. Units supplied in different blocks are easily connected to each other using M12 quick connectors. There is plenty of space in the control cabinet, making connection of accessories an easy process. The iCON control system is factory tested and delivered configured according to the customers ACON selection and with complete wiring diagrams included.
COMPLETE FLEXIBILITY
Thanks to the modular design and quick connectors between blocks you have full freedom to place the control cabinet in the position that works best in your particular cirumstances.