2019-07-01
A NEW HIGH FOR FLEXIBILITY & COMFORT
With the new HyFlex-Geko that is part of our innovative fan coil family we have created a new level of flexibility and performance. What was previously classified as great now defines a new high.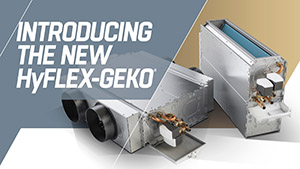 HyFlex-Geko definitely lives up to its name. High flexibility, high performance, hygiene, high speed selection, high speed installation and high speed maintenance are in every detail based on high customer orientation.
During the development of the HyFlex-Geko every single technical component has been optimised to maximise performance. We have also worked extremely hard on making every interaction with the product as easy and intuitive as possible – from selection to installation and maintenance. We believe it will make a significant difference all through the products life-cycle.