2018-10-12
AIR-COOLED INVERTER CHILLER FOR OUTDOOR INSTALLATION
The new Inverter Chiller series FGAC 1015-2050 AD 1/2 from FläktGroup operate with utmost high part load efficiencies (SEER up to 4,5) and provide planning security by fulfilling the ErP 2021 requirements.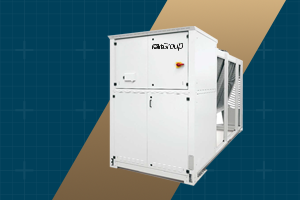 Eight unit sizes cover cooling capacities from 44 to 130 kW. Standard versions and .SL versions with super low noise are available.
Built-in Inverter pumps or fixed speed pumps are available as an option. Furthermore, units can be equipped with buffer-tank, desuperheater and several types of BMS interfaces (ModBus, Lon, BACnet over IP or MS/TP RS485).
The units are intended for comfort application. The refrigerant R-410A will be used.
The new FGAC chiller will be presented at the Chillventa exhibition in Nuremberg from 16th to 18th October