What are you looking for today?
2018-11-07
HENGST ACQUIRES SPECIALIST FOR AIR FILTRATION DELBAG - NOVEMBER UPDATE
In line with previous announcement, Hengst has acquired the specialist for air filtration DELBAG and closing of the transaction took place on October 31'st 2018.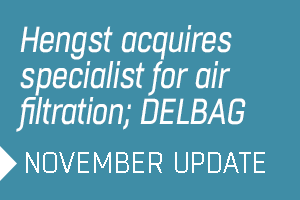 FläktGroup CEO Thierry Jomard stated: "With the sale of DELBAG, FläktGroup is reshaping the product portfolio in order to focus on addressing key customer needs in its core segments. FläktGroup will continue to source filters from DELBAG, providing complete customer solutions for optimal indoor air climate. We are delighted that DELBAG now belongs to a specialized air filtration company, Hengst, renowned in the market for filtration solutions.