2018-04-05
NEW VERSION LAUNCH OF ECO TOP
Top Connected - Top Performing AHU from FläktGroup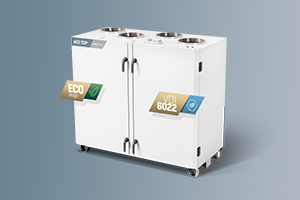 As part of the complete selection of FläktGroup Air Handling Units ranging from 360-108 000 m3/h (0,1-30 m3/s), the company has recently launched the latest advancement in the new compact range of Air Handling Units. Not only does this top connected compact unit achieve a better hygienic standard (VDI 6022) it can now also be offered with a faster delivery time… creating further success for this range! With an air flow from 360-2800 m3/h (0,1 – 0,8 m3/s), F7/F7 bag filters and up to 85% energy recovery eCO Top offers low SFP values and low Life Cycle Costs.
"Easy" has been the proverb used during the development of the eCO Top; Easy to order, Easy to place, Easy to transport, Easy to Install, and Easy to Commission.
The unit is specially designed to fit through a 900 mm door opening, ready for a quick setup since its controls can be pre-configured before delivery and is offered with a very user-friendly HMI.
All ducts, pipes and cables are top connected which minimises the footprint – no installations on the side or back when compared to other units makes the eCO Top easy to install even in narrow spaces. Even the silencer can be ordered inside the unit to facilitate the ductwork and maintenance.
eCO Top offers simple and flexible installation in buildings without mechanical rooms. This creates the possibility to free up valuable commercial surface thanks to its compact design; space that can be utilized for commercial use and therefore maximising the opportunity for higher income for property owners.
With its discrete and aesthetic design including optional duct connection cover plates and the low noise level (< 35 dB[A] at 3 m); eCO Top is perfect for installation in occupied spaces such as schools, commercial buildings and restaurants.