2018-05-24
FläktGroup participates in Build4Asia 2018
FläktGroup are proud to have supported long standing partner Gelec at the recent Build4Asia exhibition.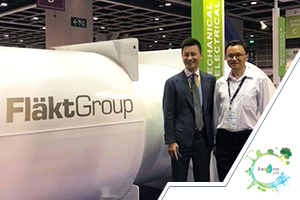 Build4Asia 2018 is the No.1 Tradeshow for the Building, Electrical Engineering and Security Industries in Hong Kong which covers every facet of the construction industry from building materials and automation, smart city technologies to total surveillance systems.
FläktGroup supplied two high specification Woods fans from the UK; a 1.8m diameter JM Aerofoil axial fan and a 1.4m diameter jet fan used in road and rail tunnel applications for fire safety and pollution control. One of the focus points of the exhibition was the importance of efficiency, even in smoke extract fans and cumulative benefits across the whole ventilation and smoke extract system; reducing energy consumption and improving performance.
View our Air Movement product range here