2016-09-05
The WEGA X-Flow II - Chilled Bean for conference rooms
AVAILABLE NOW – The new high airflow Chilled Beam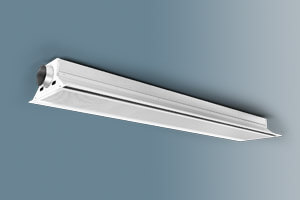 Fläkt Woods has now launched the WEGA II Chilled Beam range, which extends our current product offering to include a new high airflow version.
This NEW product is suitable for large indoor spaces, such as conference rooms, where there is a need for high airflow without increased cooling power and demand for a comfortable and draught free environment for occupants.
MOVE FORWARD WITH FLÄKT WOODS' SOLUTIONS
Today, Air Comfort within such rooms is typically maintained using at least 2 chilled beams or 1 chilled beam plus 1 diffuser just to reach the right airflow level.
With this innovative solution 2 products can be replaced with JUST 1 WEGA II X-flow. Making it is easier, and better value in the long-term, to select, install and maintain. This future proof solution will provide a good energy performance and TRUE VAV functionality with maintained Coanda effect from 0-100 l/s.
ENHANCED VALUE WITH THE WEGA II X-FLOW CHILLED BEAM
ENVIRONMENT
Provides a comfortable indoor air climate in large spaces, with up to 12 occupants
Just one product to install that needs very little space in false ceiling
Lower system pressure which could result in smaller AHU
ENERGY EFFICIENT
Wide range of airflow; 0-100 l/s in the same product with good energy performance
Low system pressure
Lower SFPv in AHU resulting in better energy performance
EXPERTISE
Easier to design the perfect solution as only one product
Optimised indoor climate with one Chilled Beam