2016-09-08
Updates to our JMv Axial Flow Fan range
That's right, our JMv is NOW AVAILABLE in 11 diameters! 315 – 1000mm.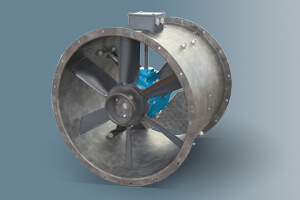 Since its launch in April 2015 our JMv Axial Flow Fan has proven itself to be an extremely versatile and economical product suited to a vast assortment of applications. We have now increased the potential of this fan!
Key features of JMv range update:
Larger Sizes
Increased Performance
Greater Benefits
Our JMv product started life as a simple idea to create a new product that would exceed ErP efficiency targets, while still offering great functionality, running cost savings and reliability in a wide variety of applications… We think our JMv has now surpassed even our initial expectations!
THE JMV SUCCESS STORY IN NUMBERS!
We have now sold nearly 1000 JMv Fans so far*
This means that during their operational life** these fans will save 32,149 tonnes of carbon dioxide. This saving is equivalent to driving around the world over 3000 times by car or flying around the world nearly 540 times by aeroplane!
A NEW ENERGY SAVING AND REDUCED RUNNING COST BENCHMARK
Energy efficiency is a core principle of our fan design, but environmental concerns are not the only factor. The challenge of escalating energy costs is also significant additional incentive. So our development focus is always firmly on two principal goals…
Delivering the same (or better) functionality…
…whilst also reducing the power used by a fan, which reduces running costs
The JMv product is a perfect example of how these principals are applied – our innovative Vortex Creation Control technology optimises aerodynamic performance which leads to impressive running cost and energy consumption reductions.
* Sales data from 23/04/15 to 16/08/16
**Based on a representative 500mm fan, operated for 50% of the time, for a typical operational life of 12 years