Data centers
Managing the air within a Data Center is a critical requirement; if conditions change data can be lost or damaged.

Intelligent & Complete Server Room Cooling Systems
Whether it is one of many rooms rooms in a vast cloud data centre, or a large single room, key to your co-location operations or even a small room as part of your office building, hosting only a couple of racks. All these white spaces are home to the key components of your operations. Maintaining the conditions in each of these areas is critical.
We offer a complete portfolio for IT cooling that can cover the different methods of applications.
With our efficient close-control climate concepts, we have no trouble satisfying all requirements from ambient conditions to minimum operating costs, and offer you an optimal price/performance ratio:
Energy efficient Indirect Evaporative Cooling (IEC) solutions using adiabatic features
High availability water based free cool systems
Reliable mechanical and compressor based cooling
Competitive chilled water solutions
DISCOVER MORE
For more information about Data Center solutions available from FläktGroup in your location, we advise that you get in contact with a representative near you.
Find a Contact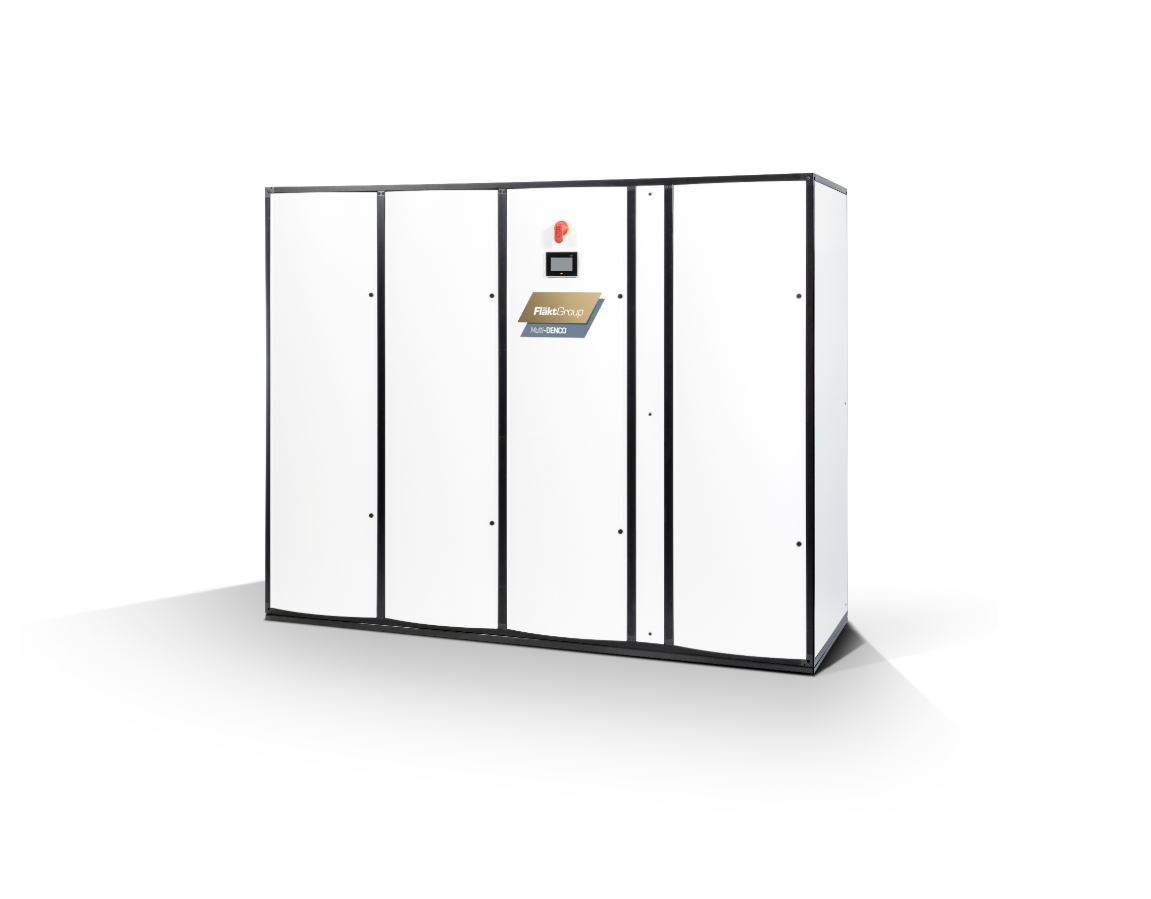 Product or all products
FlaktGroup Offers the most comprehensive range of DC cooling in the world, in-Row units, CRAC, CCU, Liquid cooling, Fresh air cooling, Indirective evaporative cooling, Adiabatic cooling...
A Data Center is a specialist facility that must maintain ideal conditions for computer systems and accompanying components, such as server racks for storage or telecommunications.
As we are all aware our modern society runs on the reliability of computer systems worldwide, many businesses must depend upon these specialist buildings and associated air conditioning systems to keep their data from being compromised. If a system becomes unavailable then a company might have to cease all operations completely until the issue can be fixed. Or in the worst cases, data could simply be lost.
An all-year-round solution must be implemented, whether you're cooling a single server or a room full of server racks the air temperature is critical to maintaining the full functionality of your data center. Computer hardware can produce a lot of heat; our products and solutions will help to ensure the safe and continued operation of your electronic storage without generating huge costs.
Data Center Solutions from FläktGroup
From Comms Rooms to Colocation & Hyperscale
Data Centers
Products & Solutions
Our efficient data center, and more specifically our server room, cooling solutions from FläktGroup provide excellent sustainable systems with exceptionally low running costs.
Cookie Consent
In order to continuously improve the user experience on our website for you and to provide you with relevant advertising on our partner websites, we and our partners use cookies. Cookies store relevant information on your device for this purpose. Some information processed through the use of cookies on our website takes place in the USA. The protection of personal data in the USA does not meet the requirements in the EU, in particular there is a lack of enforceable rights that protect your data against access by government agencies. So there is a risk that these government agencies can access the personal data without the data transmitter or the recipient being able to effectively prevent this. Information about what data is processed in the USA and further general information on cookies and data protection can be found in our Privacy Policy.

Below you can choose to agree to the use of cookies and the associated processing of your personal data in the EU and the USA.

You can change your cookie consent settings at any time by accessing 'Cookie Settings' in the website menu. Here you can see in more detail which cookies you do not want to accept.
Necessary Cookies
Performance Cookies
Functional Cookies
Advertising or Targeting Cookies
More Details
Confirm Selection Use Necessary Cookies Only Accept All Cookies
Types of Cookies
These cookies are necessary for the specific functions of a website to be carried out. For example, such cookies are used when a user puts a product in the shopping cart and then continues to surf the site (or other sites) before proceeding to checkout. This means that his shopping cart is not deleted even after closing a browser window.​​
These cookies collect information about the behavior of users on the site and whether users receive error messages (if so, where and after which events). Loading times or the behavior of the website with different browser types are also measured with performance cookies.​​
Functional cookies​
These cookies are not absolutely necessary, but increase the "usability" of a website. For example, the location entered once is saved so that the respective user can immediately see this location when the page is called up again. Form data that have been entered, the size of the font or the like, can also be saved.​​
Advertising or targeting cookies are explicitly there to show the user advertisements that match their surfing behavior. You often notice the use of these cookies after you have been to online shops: Advertisements for this shop reappear on many websites visited afterwards, sometimes with a (deliberate) delay of a few hours to a few weeks. In online marketing, this is also called "re-targeting".​

Go Back