Operating Theatre - Clean Room Ventilation
During an operation human life must be safeguarded to avoid contamination from the surrounding area.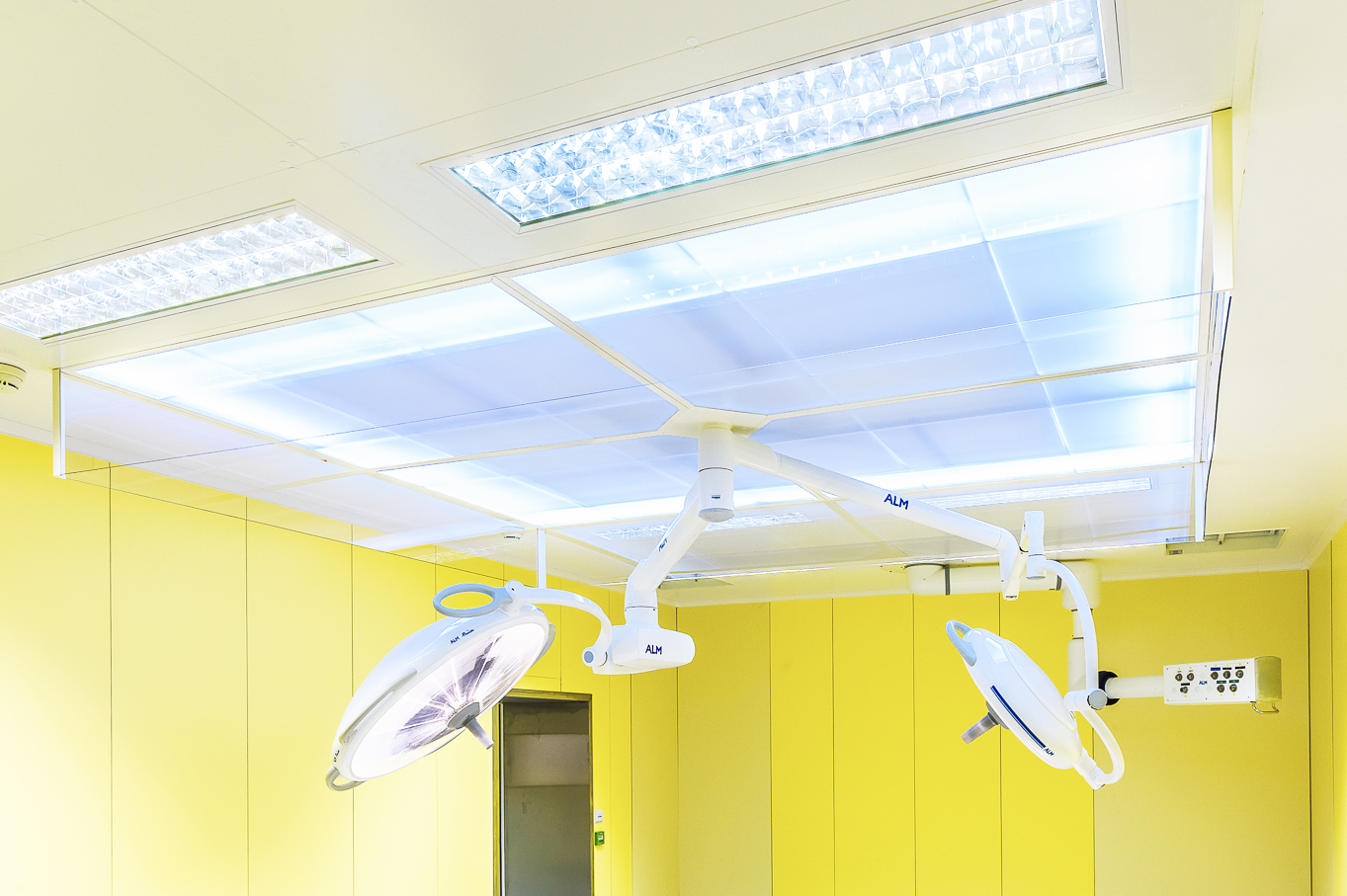 Safeguarding human life at it's most vulnerable
To understand HVAC solutions within an operating theatre we must first be aware of the varirty of risks. Our specialist hospital ventilation solutions have been developed to meet the specific needs of this application type.
During an operation contamination can come from 2 main sources.
Engogenous, which essentially comes directly from the patients skin or body matter; or from an infected prosthesis or implant.
Exogenous, which comes from the surrounding environment or surgical staff and their equipment.
The understanding of the above leads us on to consider such things as direct and indirect contamination. Direct meaning items that will directly be place in contact with the patient during surgery such as surgeons hands and instruments. Indirect is therefore contamination which might come from dust in the air, droplet nuclei, even the fibres in clothing or airborne infectious diseass.
Contamination Control
Supply air needs to be filtered in three stages with a HEPA filter at the third stage
Low turbance airflow above the operating table (almost laminar)
Overpressure to the neighbouring rooms needs to be maintained at ca. 15Pa
All surfaces inside of the room should be smooth and easy to clean – rounded corners, reduced numbers of joints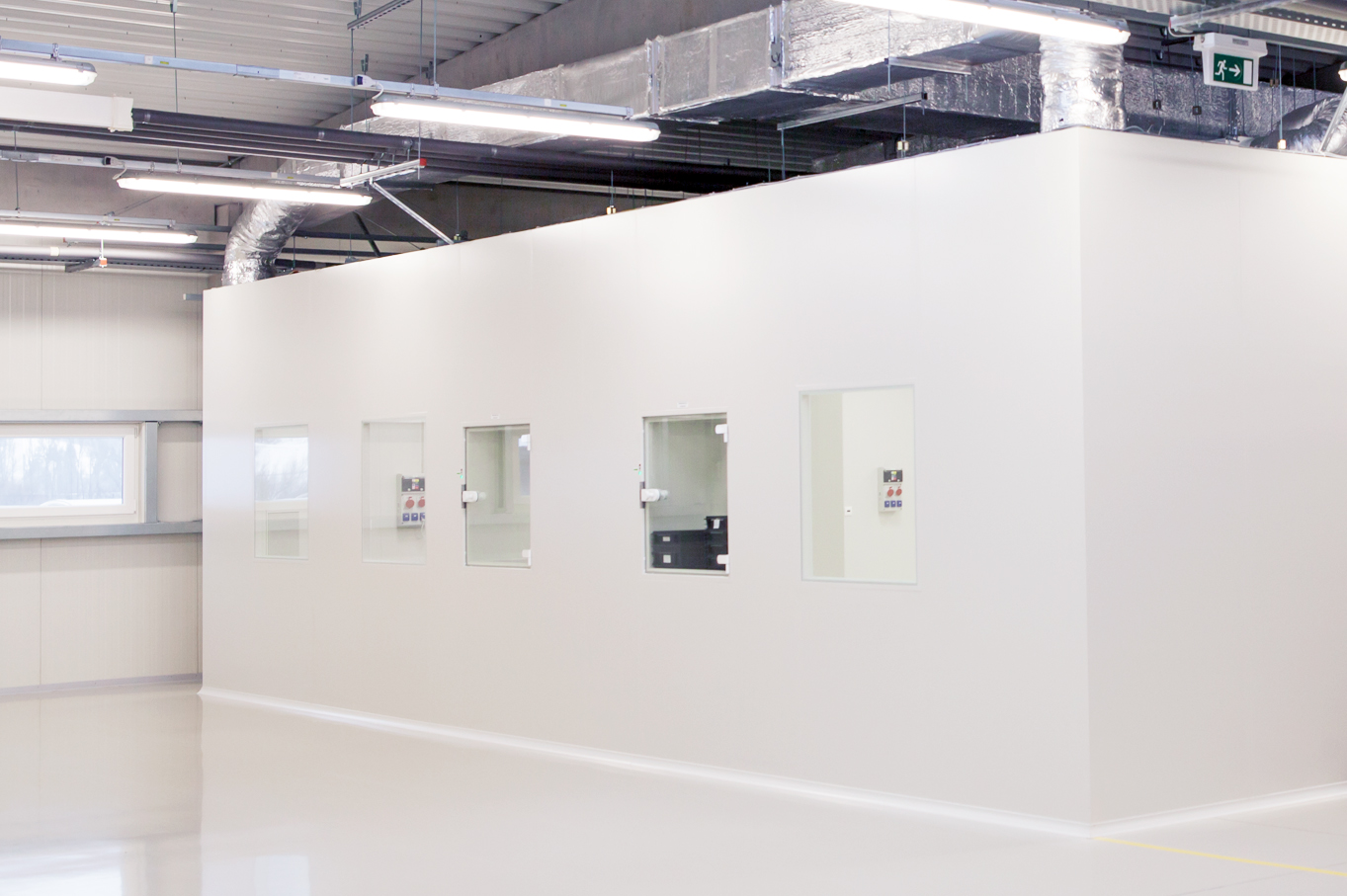 Clean Room Technology by FläktGroup
Numerous international manufacturers work with FläktGroup's Clean Room Technology as a result of our expertise in developing reliable and effective contamination control methods for Clean Rooms.
Clean Room solutions from ​FläktGroup permit users to coordinate all critical parameters precisely with the requirements of respective production processes and to systematically control decontamination of room air. These solutions control air pressure, temperature, and moisture – especially the contamination with fine dust, skin particles and bacteria – and keep these contaminants away from products and processes.
Effective and precise clean rooms design is essential for semiconductor production and pharmaceutical industries, as well as companies in the chemical industry, space technology, and optics and laser technology perform research and production; where we see that conditions in these industries are increasingly relying upon Clean Room conditions.
Technical, chemical, and biological quality products with highly sensitive manufacturing processes are further processed in hermetically sealed areas that demand room air that is virtually dust-free. The manufacturing process itself, however, requires ambient air absolutely free of particulates.
Our Process
We offer a full portfolio of support every step of the way from 3D design to installation, to reports in order to develop your bespoke project.
With decades of experience in clean rooms, we bring the necessary expertise into your project and help you to create an optimal concept for the clean room, which is energy efficient and reliable.​
Once the clean room layout is finalized, we create a 3D model with all little details – to the last screw.​
For you to check – and for our production.
All our factories work with the 5S approach and have a best-in-class on-time delivery rate. ​
In our modern facilities we produce fast standardized products, but are flexible to support you with customized solutions. ​
The installation is a crucial part in the process. Especially for a clean room. Hence, we have very well trained teams in our core countries. Everywhere else, a supervisor from the factory will be present during the whole installation phase. ​
We support the finalization of your project by bringing in our long-term partners. You will get a full report, which is complying to all global and local regulations and standards. And – of course – you can be ensured, that your clean room will operate as required.​
Sales Contact
Offices & 3rd party contacts