Office Building Port House Antwerp
"Antwerp's latest architectural jewel" is the new headquarter of the Antwerp Port Authority. FläktGroup was proud to deliver 16 AHU's of which 5 are installed on the roof.
Customer: Installers Cegelec and Spie in collaboration with engineering agency Ingenium, all from Belgium
Need: Energy efficient solution for ventilation in the new and the old building
Solution: AHU's for inside and outside installation, equipped with an energy recovery system.
© Havenbedrijf Antwerpen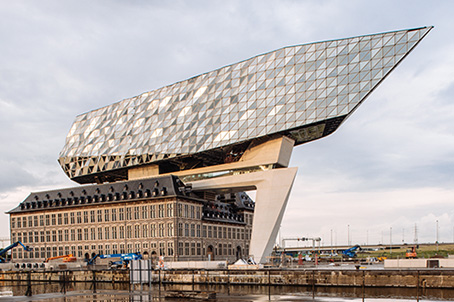 The unique building consists of two main parts; the bottom being a renovated former fire station and the top being a contemporary superstructure.
The latter is a monumental design of the late famous Iraqi-British architect Zaha Hadid.
Zaha Hadid is not exactly known for simplicity or dullness, as this building clearly demonstrates. Of all her works, the port house is the only government building she ever designed. It consists of offices for the 500 employees for the port authority.
The ship-like structure of glass and steel atop the old port building of 1922 also resembles a diamond, referring to Antwerp as the major market of diamonds in Europe. It was one of her lasts works that opened in 2016, also tragically being the year she passed.
The underlying idea of "old and new" is that the structure would form a metaphor for the port of the 21th century; with a rich history on the one hand and readiness for the future on the other.
To be ready for the future, the air handling equipment in the building has been well thought out. The delivered material consist mainly of combined supply and extraction AHU's, which are almost all contain an energy recovery system to ensure an economical operation.
Optimized efficiency
The largest units have a total air flow rate of approximately 15.000 m³/h and have a rotation heat exchanger with an absorption rotor, allowing them not only to recover warmth but humidity as well.
The units for the smaller departments consist of the same components; however, they are designed for a smaller airflow rate.
The units installed on the roof in direct contact with air, have an outer casing of stainless steel and vibration dampers, and serve for the top floors. An additional extraction AHU has been provided for the kitchen.
The units with an energy recovery system work by the same principle;
They dehumidify the supply air and bring them to the desired temperature before sending it back to the chilled beams for the old or the ones of the new building.