Expo 2017 is an International Exposition took place in Astana, Kazakhstan. Climate comfort and quality demands of this exhibition complex's the most prestigious areas are equipped with FläktGroup HVAC products.
Customer: EXPO 2017, Astana / KAZAKHSTAN
Need: Complete HVAC solution
Solution: 38 pcs AHU's, 6 pcs ATpicco, 200 pcs fan coil units, 1160 pcs trench heaters, 8 close control units and 2 pcs of Chiller Units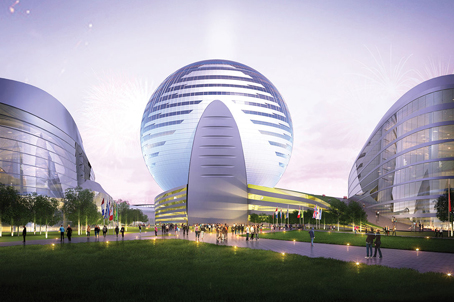 The total area of Astana EXPO-2017 exhibition complex is 174 hectares and it includes 35 facilities. The exhibition area houses the National Pavilion of Kazakhstan, international, theme-based and company pavilions, trade and entertainment facilities. In the non-exhibition zone there is a conference center, press center, indoor city, residential buildings and hotels.
Some of the most prestigious areas of this complex are equipped with FläktGroup HVAC products to control the indoor air comfort. The FläktGroup sales team worked intensively with the construction company of the pavillon during the planning period of this complex's HVAC requirements, and as a result, the project was completed with excellence in terms of sound, energy savings and quality.