What are you looking for today?
2018-08-23
Hengst acquires specialist for air filtration DELBAG
Bolstering their market position as a filtration expert in the room air filtration segment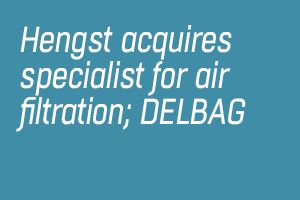 Münster, 08/23/2018 – Hengst Filtration, a globally operating specialist for cutting-edge filtration solutions has entered into a binding agreement with FläktGroup, the market leader in ventilation solutions, about Hengst's acquisition of the DELBAG corporation. The associated contract was signed in Frankfurt on August 22, 2018. Both parties agreed not to disclose any financial details of the deal.
Founded in 1909 under the name of "Deutsche Luftfilter-Baugesellschaft", the DELBAG corporation is one of the oldest air filtration businesses and one of the most recognizable brands in this industry. A member of FläktGroup, DELBAG is headquartered in Herne (Westphalia). DELBAG employs a staff of nearly 150 in Germany, France, the Czech Republic, Poland, and Austria. In 2017, the company generated sales amounting to 30 million euros.
Read more here: