2018-07-17
Centriflow 3D - New Impeller
Fläkt Woods is proudly releasing the new Centriflow 3D mix flow plug fan in the eQ range of Air Handling Units.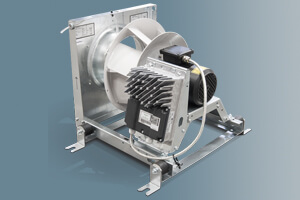 Centriflow 3D is our new mix flow impeller developed to give the best possible performance inside an Air Handling Unit. The impeller delivers a natural air flow inside the Air Handling Unit where the air stream is not disconnecting from the blade surface either on vacuum or pressure side - assuring minimum turbulence, maximum dynamic pressure conversion and the lowest possible noise level.
The superior fan characteristics are translated into performance improvements of the eQ range offering increased customer benefits and lower LCC.
Improved energy performance – upto 5% lower SFPv
Lower sound remittance
The new plug fan is now implemented into all eQ Prime sizes as standard and the majority of eQ Master sizes with EC, PM, IE2 and IE3 motors.
Our eQ range is well known as high performing Air Handling Units, which is now further improved with the Centriflow 3D mix flow impeller.
Please contact your Fläkt Woods sales contact today for more information on eQ Air Handling Units with Centriflow 3D, how it can be used to improve the performance of your ventilation system, and how it can lower your LCC.