2018-07-17
eCO TOP - Top connected, top performance
NEW RANGE OF ENERGY RECOVERY UNITS - eCO Top marks the next generation of top connected Energy Recovery Units from Air Comfort & Fire Safety specialist Fläkt Woods. The new eCO Top unit is available in 3 sizes and complements our existing range of top connected AHUs – completing the range for air flows up to 1,4 m3/s.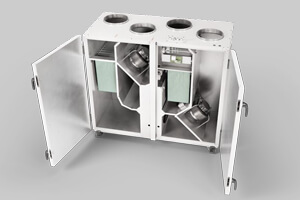 DESIGN EXPERTISE & GREAT FLEXIBILITY
Boasting a compact design with top connections for ducts, pipes and cables the eCO Top maximizes value by utilising a very small footprint; making it perfect for installations in tight spaces! Additionally, low sound levels combined with an attractive white-painted finish makes the unit available for installation in public locations such as gyms, cloak rooms etc.
INSTALLATION & COMMISIONING MADE EASY
Transport to the installation site is made easy as all separate parts of the unit have been designed to fit through a standard 900 mm opening.
Furthermore, commissioning for this product is achieved via Fläkt Woods' touch screen interface 'CURO' which includes a NEW user-friendly commissioning wizard for the quick setup of operating parameters. A complete package of control functions is available which can optimise energy use and regulates a comfortable indoor climate for people inside a building.

COMPACT & EASY
Top connection of all ducts, pipes and cables minimises the footprint and makes eCO Top quick to install
LOW SOUND LEVEL
50 mm casing with mineral wool insulation minimises noise to allow for installation in public areas
Optional integrated silencers
ATTRACTIVE DESIGN
White painted finish to suit location in open public areas
Optional cover plates for hiding of ducts for an even more discrete look