Car Parks
Car park system solutions should monitor and control pollution and also be ready to jump-into-action during a smoke extraction emergency in the case of a fire.
The FläktGroup Thrust Fan System is one of the most efficient and cost effective car park ventilation systems available on the market today.
Both day-to-day pollution and emergency smoke are safely and effectively ventilated. Designed to the highest standards and meeting the most stringent criteria to ensure all design requirements are met.
High System Performance
Low Installation Costs
Low Running Costs Optimises Car Park space
CFD System Design
Complete Turnkey Package available
We have built up vast applicational knowledge through involvement in many major construction projects, such as offices, hotels, airports, commercial buildings but also demanding applications like car parks, cruise ships and oil & gas platforms. The ability to offer a full range of products, coupled with our vast experience of HVAC systems, makes Fläkt Woods the ideal provider of Fire Safety solutions.
<!script type="text/javascript" src="~/build/js/jquery.embedVideo.js">!script>
Introducing the JTV JET THRUST RANGE

Increased Thrust:
Fewer fans required can save on fan costs and installation costs
Smaller diameters can be used to save on cost and space as well as being easier to install
Enhanced safety: Capable of handling larger design fires, where lower thrust fans can't cope
Enhanced smoke control in difficult to ventilate areas
Potential to reduce insurance premiums due to increase in fire safety
Increased Efficiency:
Lower running costs. Up to 42% less energy used per year
Smaller backup power supply requirement, reducing project cost and freeing up space
Buildings with lower carbon footprints and reduced energy usage can generate higher rental income as ownership costs are lower

Aerodynamic Hub Design:
The JTv uses the radically improved JMv hub design
Curved profile enables closer fitting components which reduces losses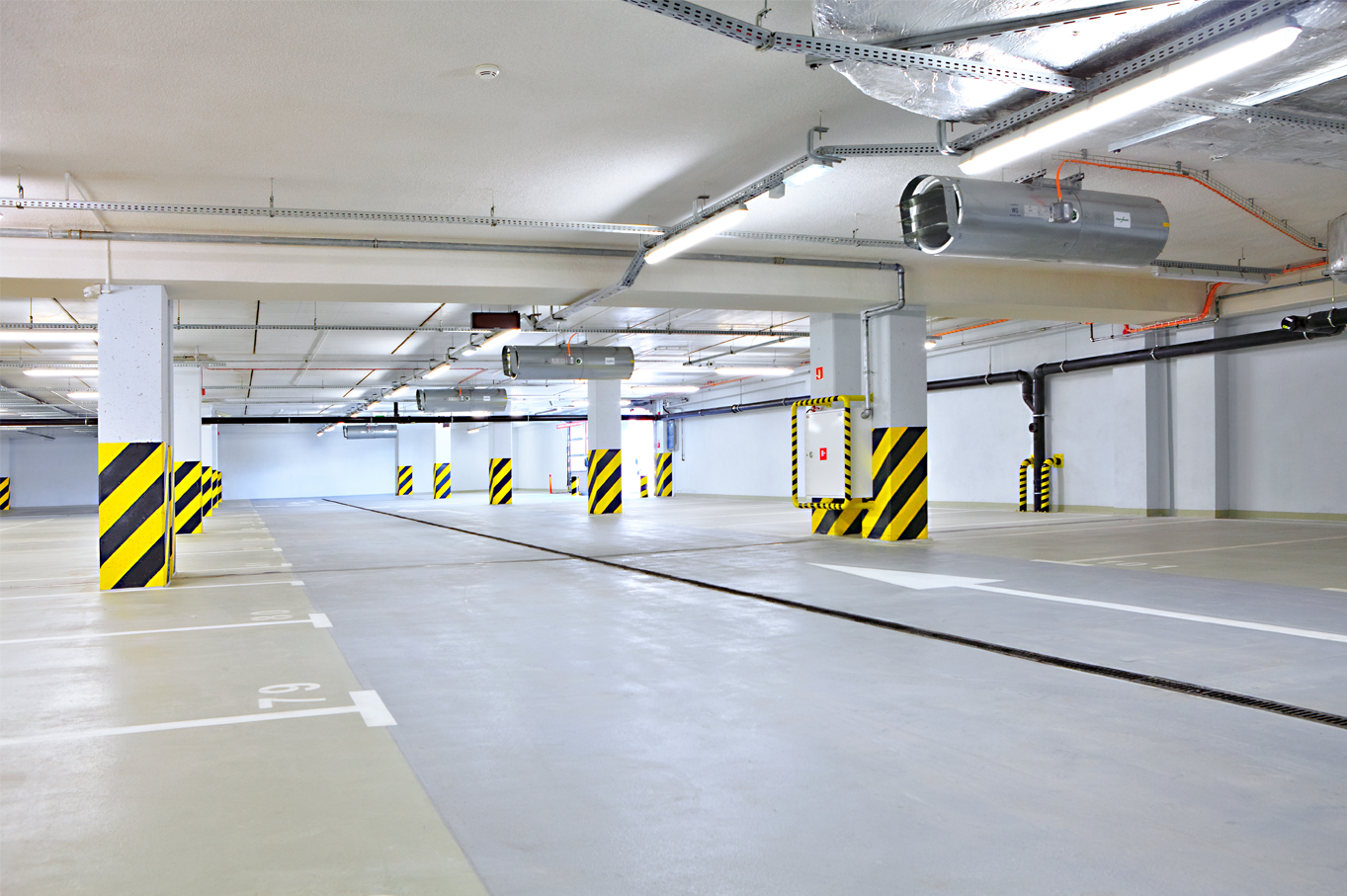 Jet Thrust Systems
The FläktGroup Jet Thrust System replaces traditional ductwork with arrays of small fans called Jet Thrust Fans, that distribute the supply air towards the extract point.
Higher System Performance
By controlling the air supply with Thrust fans a full smoke control design can be made – something just not possible with a conventional ducted extract system. In an emergency situation, full fan extract rate can be reached in as little as 20 seconds allowing immediate response to the situation. Full smoke control can be designed into the system, which can encompass fully reversible Jet and extract fans if required.
Lower Installation and Running Costs
Installation costs are normally lower with a Thrust Fan System, compared to a ducted system. Installation is simpler saving on labour costs, dependant on the size and form of the car park. There are other hidden savings too. With no ductwork, other services such as, cables, gas and water supplies, soil pipes and so on, can be routed straight across the ceiling line, without having to divert around extract ductwork or hangers. Access for routine maintenance is easy, and of course, there are no distribution ducts and dampers to be cleaned and inspected.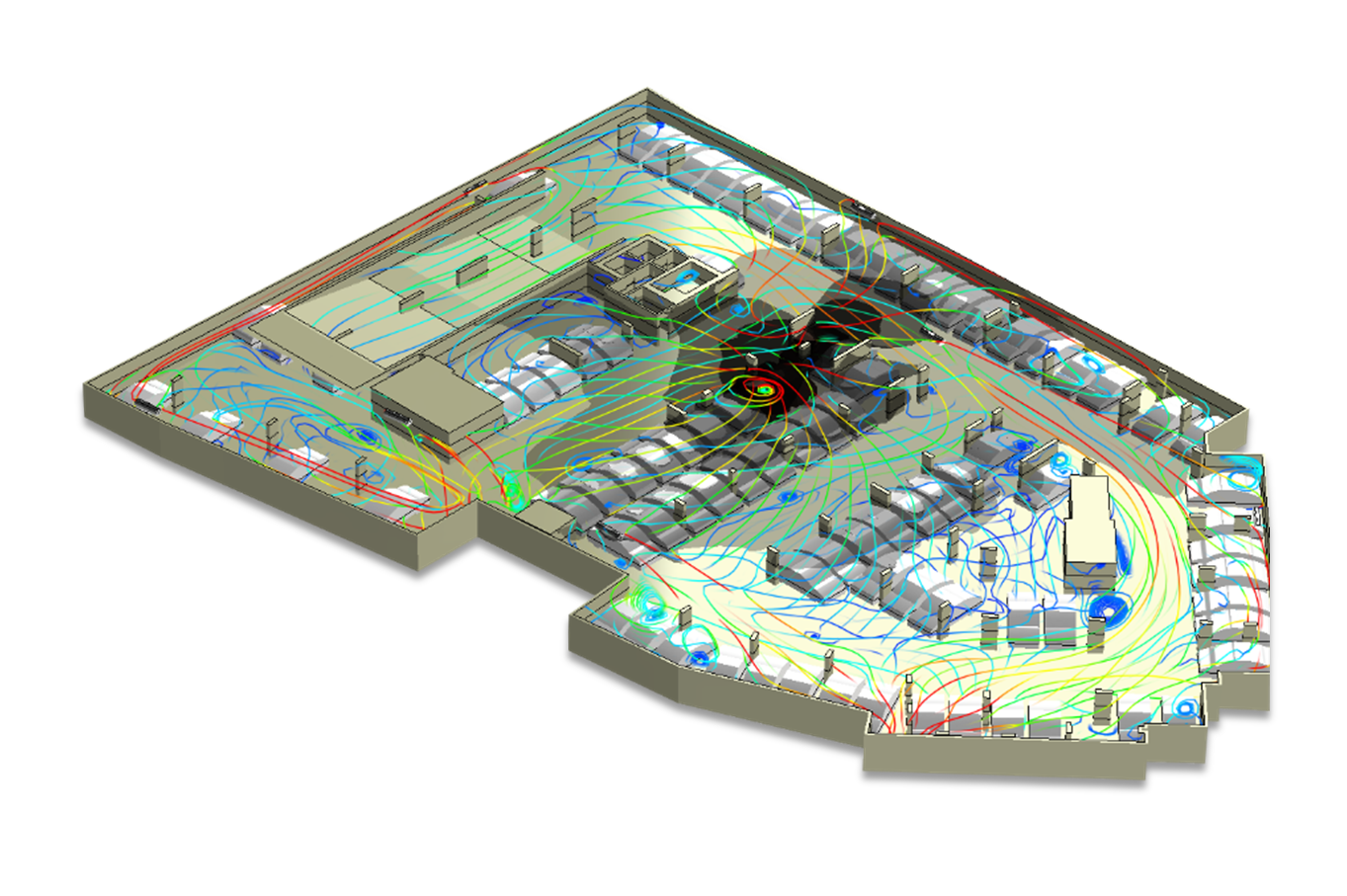 Design & CFD
Jet Thrust Fans are one part of a system, and it doesn't mater how good the product is if the design is flawed.
FläktGroup have a design and CFD Centre of Excellence based in the UK, supported by local specialists . The Design team are focused on delivering the optimum design tailored to local regulatory requirements, optimising air quality, fire safety, installed cost and full life cycle costs.
We design smoke clearance, smoke control, temperature control and pollution control systems, using the latest techniques.
For Consultants:
Preserve the integrity of the architects design
Reduce project costs by optimising the system design
Reduce energy consumption in ventilation mode
For Contractors:
Lower installation costs
Simplify installation
Optimise other project costs: excavation, smoke shaft size, switchgear
For Building Owners/Operators:
Protect life & property
Reduce energy consumption
Increase lettable space
For Occupants:
Increased fire safety
Lower noise levels
Car Park Systems
We offer ventilation and fire safety systems with our exclusive, class leadings products for your car park design.
Maximum efficiency for daily ventilation
Maximum performance for smoke extract
Lower installation costs
Lower related project costs
Lower running costs
Ease of maintenance
View product

Car Park Systems
We offer ventilation and fire safety systems with our exclusive, class leadings products for your car park design.
Maximum efficiency for daily ventilation
Maximum performance for smoke extract
Lower installation costs
Lower related project costs
Lower running costs
Ease of maintenance
View product
Sales Contact
Offices & 3rd party contacts