Sheffield Hallam University
When the Building Services Department at Sheffield Hallam University set about refurbishing the newly acquired Arundel Building, it specified a highly efficient
ventilation system from FläktGroup.
Customer: Sheffield Hallam University
Need: Replace Natural Ventilation System, Provide ventilation for all 5 stories with each floor having individual temperature and CO2 controls and to create a more sustainable estate
Solution: The installation of an eQ Air Handling Unit (AHU) and an integral ReCooler HP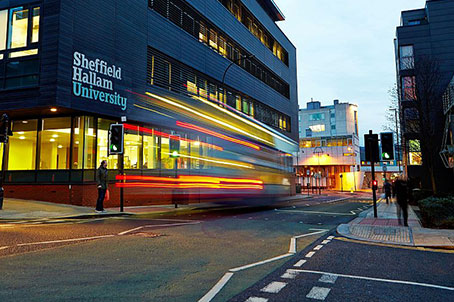 Comprising an eQ Air Handling Unit (AHU) and integral ReCooler Heat Pump, the new equipment has replaced the existing natural ventilation setup in order to supply up to 2.5m3/s of conditioned air into a variable air volume (VAV) system. The incorporation of the new ReCooler HP is one of the first inverter driven compressor technology installations of its type in the UK.

Lee Allen, Senior Building Services Manager at the University, is responsible for overseeing the refurbishment. Explaining the project, he said: "The refurbishment has been divided in two phases, with the installation of the ventilation system occurring in phase one. From the outset, we decided to take a new approach, incorporating highly efficient mechanical equipment, alongside cross flow ventilation with new opening windows. This has been designed to allow the centralised ventilation system to be optimised for mixed mode conditions."
At the heart of the mechanical ventilation system is the Fläkt Woods ReCooler HP unit, which provides heating and cooling from a built-in reversible heat pump and
recovery wheel.
Lee continued: "During our initial discussions with Fläkt Woods, we were keen to incorporate the new ReCooler HP unit into the AHU, instead of installing a separate wet heating coil or DX coil. It's a really neat and tidy package, but also offers COPs that are far higher than the alternatives. The energy saving potential of the device is hugely important in our drive to create amore sustainable estate."

The ventilation system has been designed so that each floor in the five-storey building is divided into six zones, where the ducting will serve individual VAV boxes with
temperature and CO2 control.
Commenting on FläktGroups' products, Managing Director Russ Oliver, said: "This installation is the first of two projects that we have carried out for Sheffield Hallam University that incorporate the ReCooler HP unit. After using a crane to lift the unit onto the roof of the building, it was successfully connected to the ventilation system without any issues and, so far, we've been really impressed with the quality and performance of the equipment. We're also looking forward to evaluating the success of the units over the next year, especially their energy saving potential."
The contractor for phase one of the project was Rotherham based Lyndhurst Cooling and Heating Services Ltd.