Schools & Auditorium Ventilation
HVAC ventilation requirements in schools require care and attention to achieve the best air comfort conditions for learning and developing.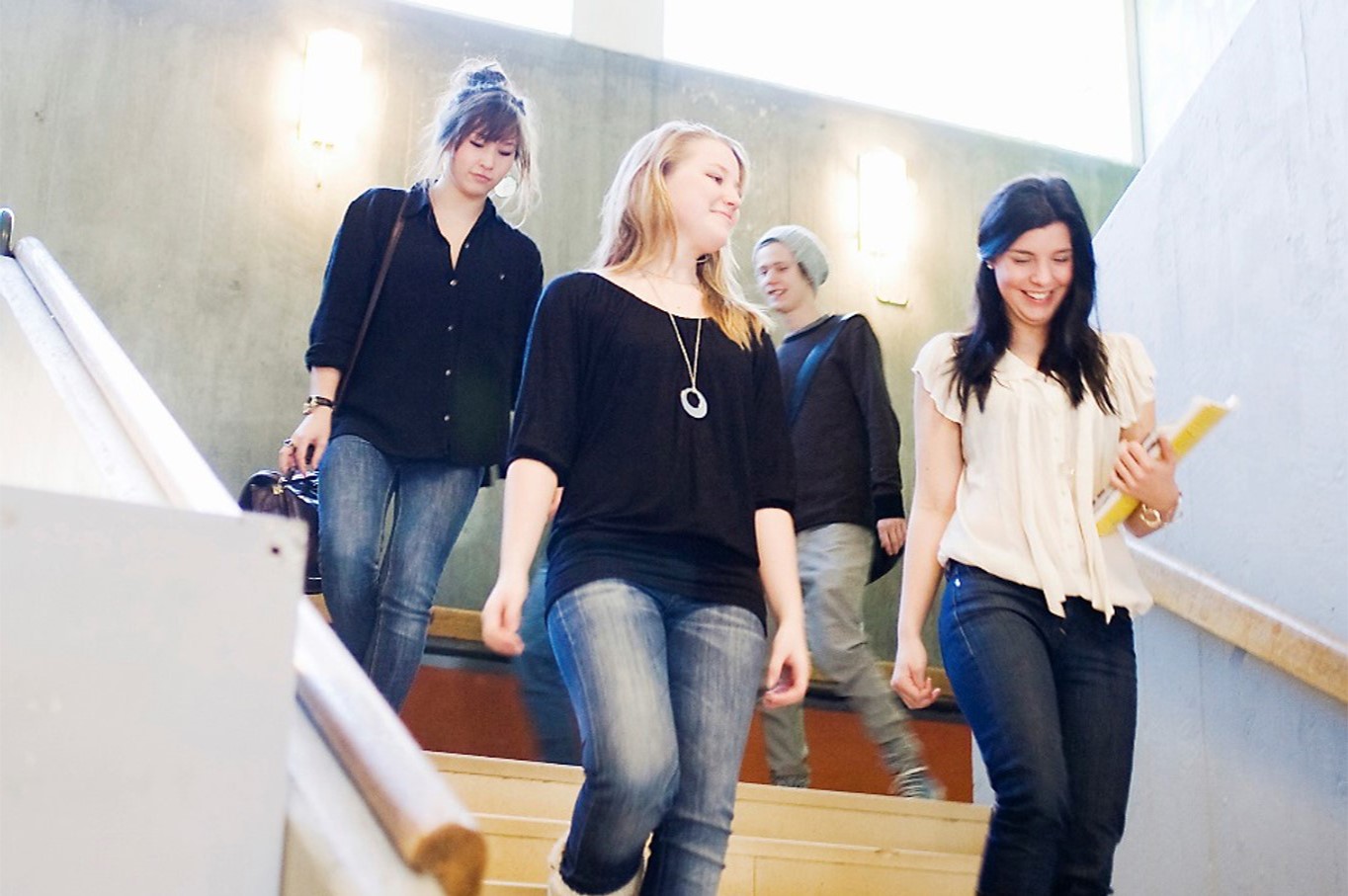 Creating the best environment for learning
Educational facilities provide a variety of differing indoor spaces that all come with their own challenges.

When considering this applciation type we must consider the reduction of noisy distractions that would affect a young persons concentration. We also consider air temperature, draughts, odour control and in some cases where a building is large enough fire safety solutions for safe exit of a building. At FläktGroup we take these needs into consideration and have created solutions that manage the needs of small and large capacity schools and colleges, focusing on class room learning, gynamisums and even comfort in corridors between class time.
Ventilation of Auditoriums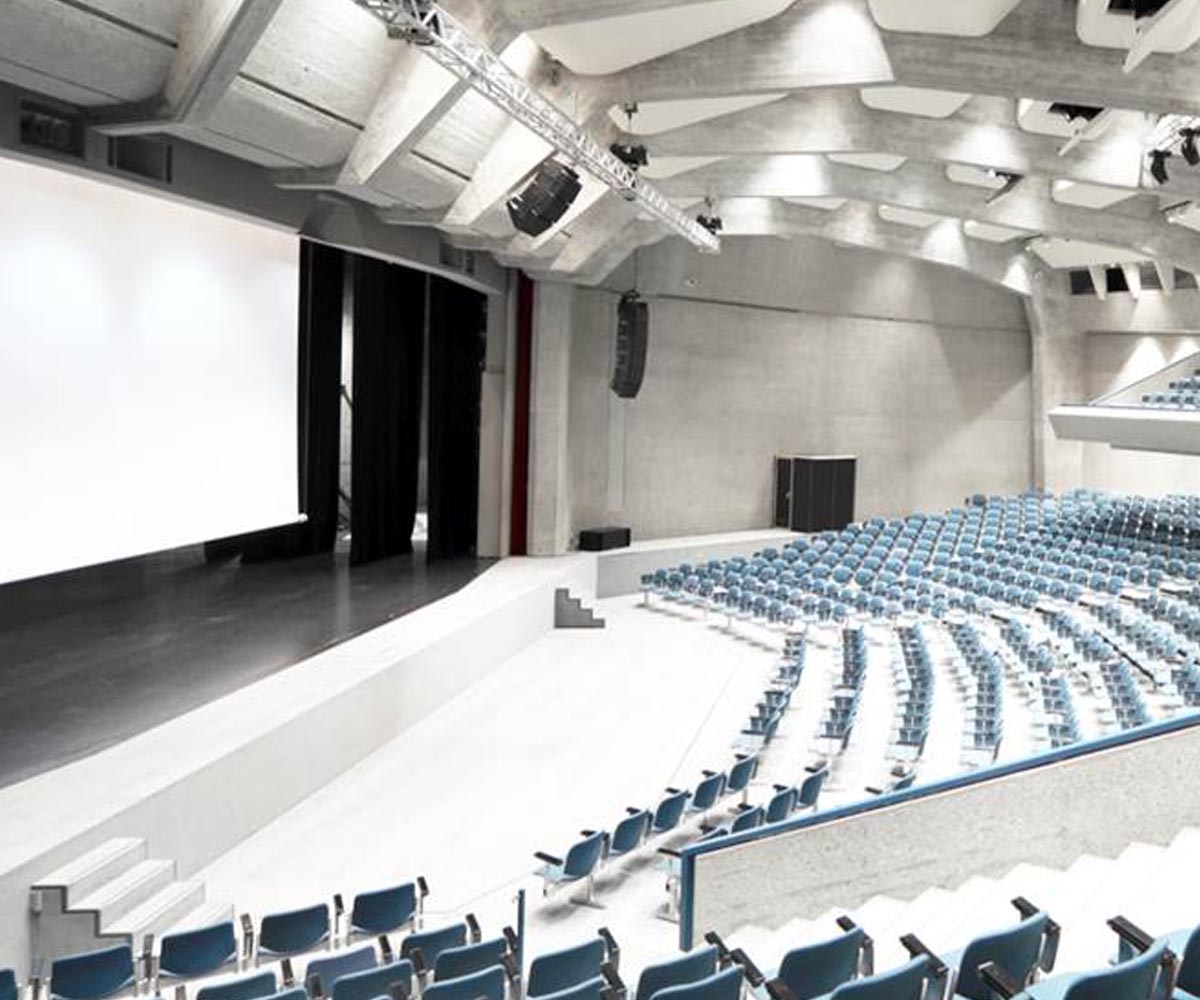 Ventilating large rooms with variable occupancy
Large rooms with lots of volume pose specific challenges to a ventilation system. Large crowds, sometimes bringing outerwear, can produce large amounts of dust.
The variable capacity of a room must also be dimensioned to deliver enough fresh air that will ensure comfort when the room is nearly empty or crowded. Quiet moments during a concert or monologue might require almost complete silence in order that the audience can appreciate the full experience.
Guide To Planning/ Dimensioning/Configuration
Business center/ Auditorium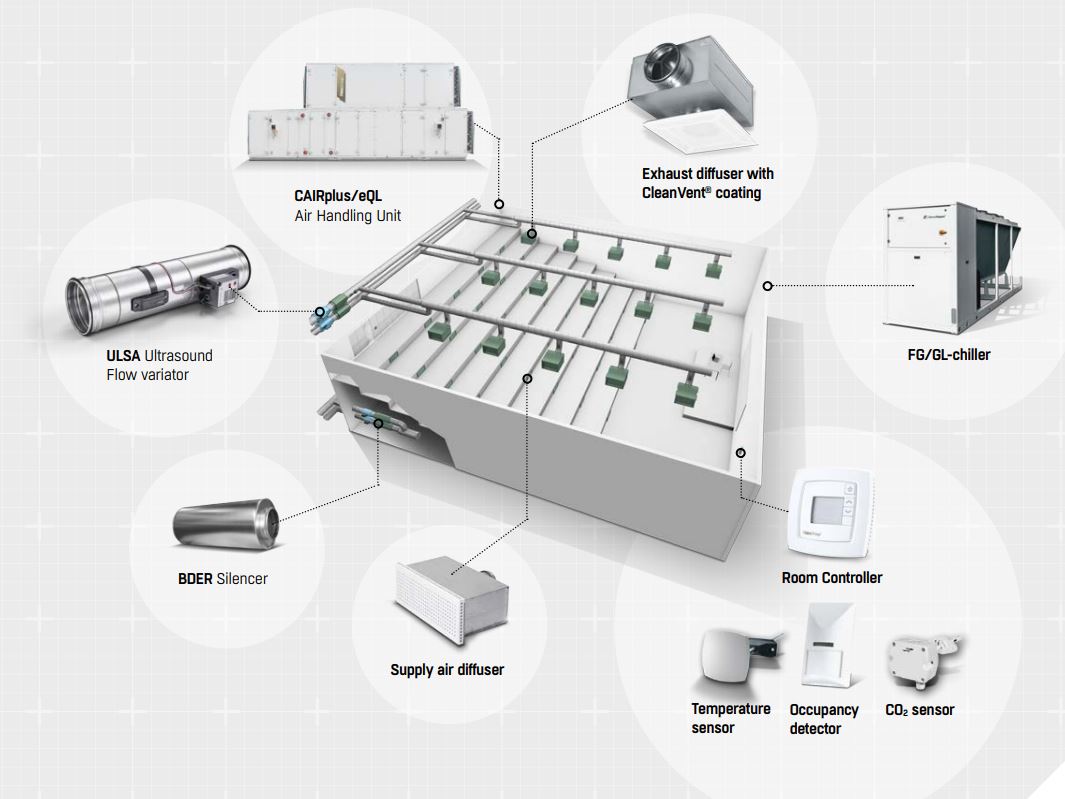 Area 300 m2 Air volume +/- 800 l/s (100 persons)
PROPOSED DESIGN FUNCTIONS
CO2-, temperature and occupancy sensors monitor the room's indoor air climate
Room controller receives messages from the different room sensors and controls the VAV dampers
Room's ventilation system is constantly driven by demand controlled ventilation
OPTIVENT® ULTRA BENEFITS
Dust resilient construction is needed for auditorium that contains a lot of fabric dust from people's clothes
Accurate air flow measuring and wide air flow range
Silent ventilation is necessary during shows and recordings
Reduced need for maintenance work that can disrupt daily activities
Min air flow in the room: 150 l/s (floor area 300 m²)
Max air flow in the room: 800 l/s (80 people) vs general rules
Supply air duct: 2x ø 315 mm (v=5,13 m/swith max air flow)
Exhaust air duct: 2x ø 315 mm (0,85 Pa/m)
OPTIVENT® ULTRA: ULDA-5-315-1 for supply and exhaust (same size as duct)
Silencer: BDER-44-031-090 for supply and exhaust (xx dB(A) right after silencer with q=100 l/s and ΔP=80Pa)
Air pattern (diffuser DASH-100): max air velocity 0,1 m/s in the occupational zone with maximum air flow
Air management
Optivent Ultra VAV-damper ULDA-5-315-1 (4 pcs)
Silencer, length 900mm, BDER-44-031-090 (4 pcs)
Air diffusion
Supply diffuser (80 pcs) integrated behind steps DASH-100-0
Exhaust diffuser (16 pcs) with clean vent painting HPKH-160-6-C and ATTC-125-160-1 Automation systems
Automation systems
Room Controller (Modbus connection) STRA-04
Transformer STRZ-24-1
CO2-sensor STRZ-18-1-2
External temperature sensor STRZ-05-4
PIR Occupancy detector STRZ-09-1
Sales Contact
Offices & 3rd party contacts