2020-07-07
The eCO TOP & eCO SIDE - Top Performing Air Handling Unit from FläktGroup.
Now smarter than ever with new energy saving functionalities and fast & easy to installation.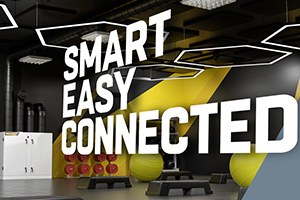 FläktGroup are proud to introduce the updated version of the eCO TOP & eCO SIDE - compact range of Air Handling Units (0,1 - 0,8 m3/s) (360-2880 m3/h).
eCO TOP & eCO SIDE with ISYteq Cloud controls offers a superior Air Handling Unit management solution, which is reliable and provides sustained unit longevity for your ventilation system.
View Products on the links below:
eCO TOP >>
eCO SIDE >>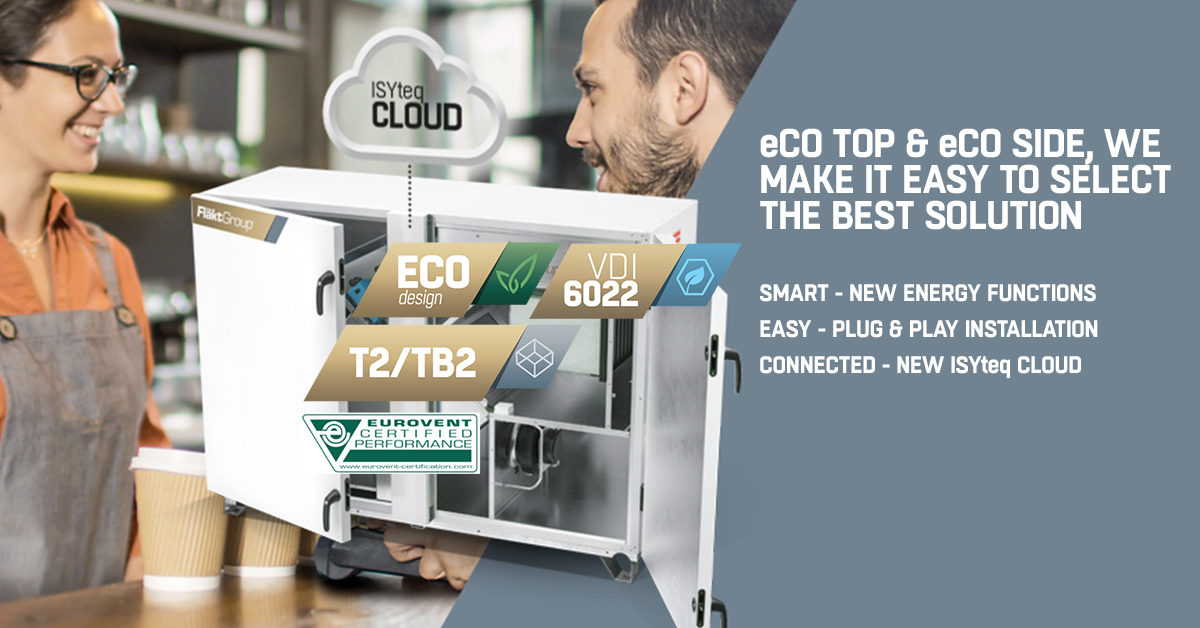 We have introduced a selection of smart options to the range. Starting with a City version that benefits from a second filter, filter class ISO PM1 80% filter (F9), to handle the toughest outdoor air situations. Our basic filter model uses bag filter class ISO PM1 55% (F7) for low pressure drop and high efficiency.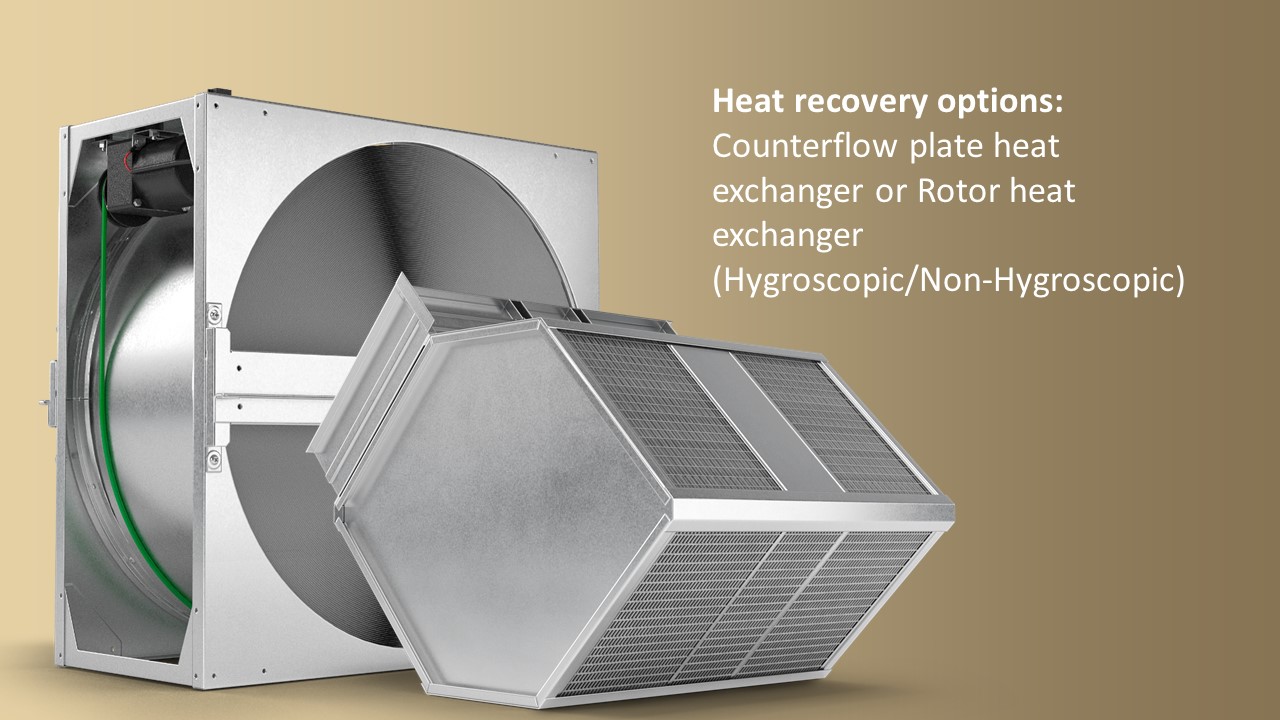 Optional Hygroscopic rotor within the unit to maintain optimum humidity levels and up to 85% energy performance. Or Counter flow plate heat exchanger, with advanced frost protection and up to 83% energy recovery ensures the best heat recovery wherever you are located. eCO TOP & eCO SIDE offers low SFP values, low Life Cycle Costs and remote connectivity.
eCO Top & eCO Side with modern integrated control – high performing, silent and aesthetic design with white painted finish suitable for modern indoor spaces.
eCO Top & eCO Side comes in sizes for air flows up to 2880 m³/h (0,8 m³/s)
State-of-the-art energy performance fulfilling Eco Design, for ErP
Up to 85% energy recovery with rotary or 83% with counterflow plate heat exchanger
Hygiene certificated for ventilation according to VDI 6022
Quick commissioning via touch screen interface ISYteq Touch 7.1
City version with the option of a second filter
Cloud connected, get the full overview of the unit wherever you are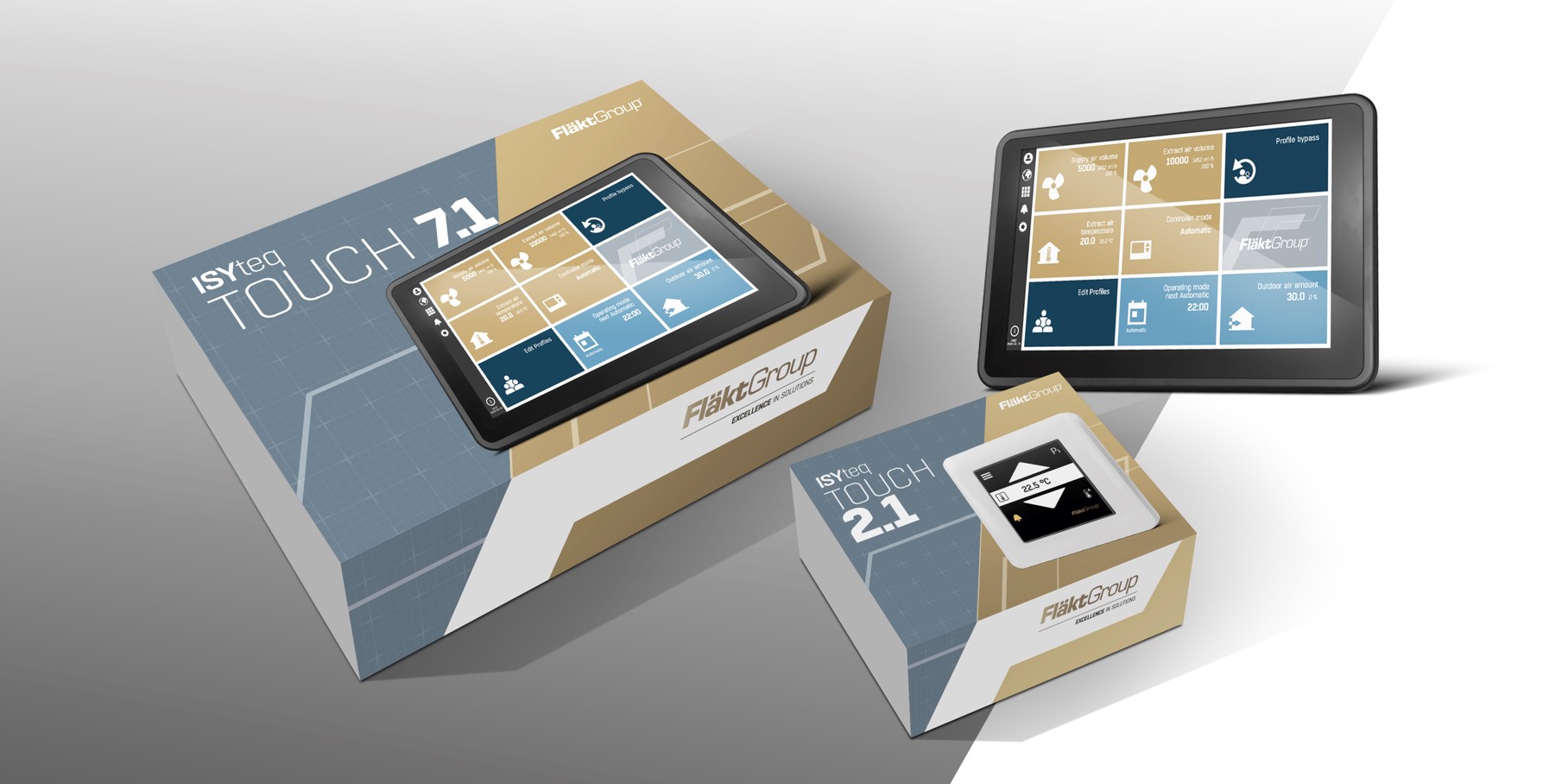 New developed Control system
BACnet and Modbus
Webserver and ISYteq Cloud remote control
ISYteq Touch 7.1 handheld HMI
ISYteq Touch 2.1 room control HMI
Second Filter for City version
Choice of Plastic or Metallic Impeller