Rexam Beverage Can India Limited
Fläkt Woods has delivered energy efficient Air Handling Units to the industrial can manufacturing company in Chennai
Customer: Rexam Beverage Can India Limited
Need: Energy efficient Air Handling Units for Industrial application. Needed a highly reliable and quality product.
Solution: 43 Nos Fläkt Woods CCTU Air Handling Units with Thermal Wheels and heating & cooling coils.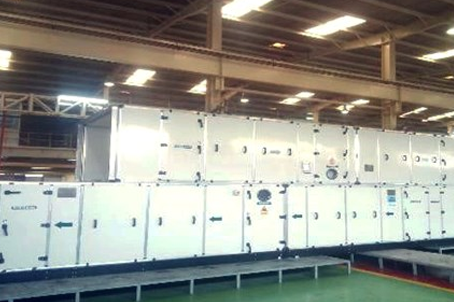 RexamInc. is a British-based American-owned multinational consumer packaging company headquartered in London, United Kingdom. It is a leading manufacturer of beverage cans. It has 55 plants in over 20 countries across Asia, Europe, North America and South America. In June 2016, the final regulatory hurdle was cleared for the purchase of Rexam by the American company Ball Corporation. Rexam has around 55 plants in over 20 countries and employs around 8,000 people.
Crescon was the consultant for this project & utilised Fläkt Woods' expertise to develop a solution because of our renowned reliability, quality & service support. Fläkt Woods supplied CCTU Air Handling Units for the Aluminium Cans manufacturing unit, precisely 43 Nos AHUs we built in total. Each AHU was approx. 10 metres long with sound attenuators. Energy recovery wheels were also incorporated into the design; those supplied were 4.2 meters in diameter.