Monitoring Services and HVAC Controls Suppliers
Monitoring and Connection to the Building Automation System. There are several open protocols routinely available for the connection to an external building automation system.
HVAC Monitoring solutions could save time and money
The two interfaces BACnet and Modbus are always on board as standards and must not be supplemented by add-on modules. This enables an easy and cost-efficient integration in the building automation. The Ethernet interface with integrated Webserver is suitable for the integration in a local network (LAN). This enables a very simple and clear access with PC, tablet or smartphone.
OWN PROFILE FOR DIFFERENT OPERATING STATES AND TIME PROGRAMS: The user can select between 4 functional profiles. As a result, set point values and switching times can be very quickly and easily entered, and current actual values and messages can be simply visualized and read off. The setting of week programs, special daily programs or a special holiday program is as simple as possible.
FLOW CHART: Graphic representation of the facility with all sensors and actuators. The screen is dynamically structured so that only units are displayed that are available in the plant configuration.
Plant values are automatically updated in the display
Display of all measured values, sensor states and switching status of all drives
Manual operation of individual drives
State of the filter monitoring
Acknowledge error with respective operating authorization
ALARM MANAGEMENT AND HISTORICAL DATA RECORDING: Trend representation for the analysis and optimization of the plant operation. There is the possibility of viewing both "live data" as well as "historical data". Selectable sensor values and functional changes over certain selectable time periods are monitored and saved.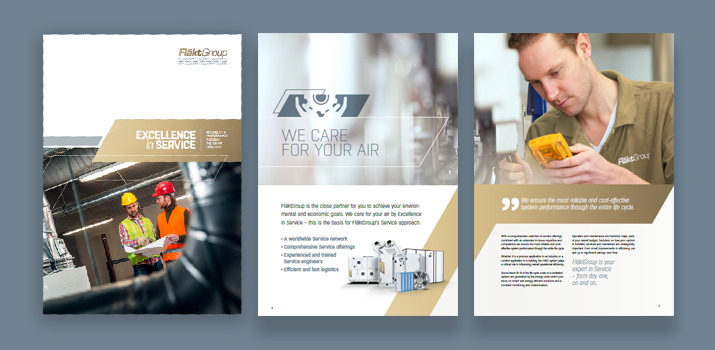 EXCELLENCE IN SERVICE
FläktGroup is the close partner for you to achieve your environmental and economic goals. We care for your air by Excellence in Service – this is the basis for FläktGroup's Service approach.
View Service Brochure