Air Conditioner/ Air purifier Rental
Short-term replacements or unexpected peak times require extra heating, cooling or ventilation.
Often our client's business requires temporary air treatment capacity to cover from breakdowns to extra seasonal requirements, planned service, facility renovation, special events or just to continue being operational during maintenance, repair, replacement or retrofit of the existing system.
For these circumstances, FlaktGroup offers cost-effective, fast and safe air conditioner rental and ventilation equipment solutions using modern and reliable equipment for all purposes.
To ensure trouble free operation of your FlaktGroup equipment and limit the unwanted down time, we recommend signing up for a maintenance contract. This will relieve you from worrying about setting up a maintenance team of your own and lets you focus on your core business. Our well balanced maintenance contracts offer you all flexibility to meet your demands.
Our highly skilled service engineers will keep your units in top shape to guarantee optimal performance during the first years of their lifetime. You will benefit from pre-planned maintenance visits to reduce downtime to an absolute minimum.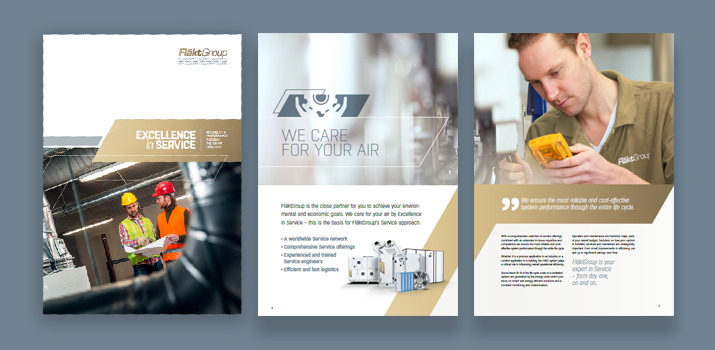 EXCELLENCE IN SERVICE
FläktGroup is the close partner for you to achieve your environmental and economic goals. We care for your air by Excellence in Service – this is the basis for FläktGroup's Service approach.
View Service Brochure