Semi-centralised ventilation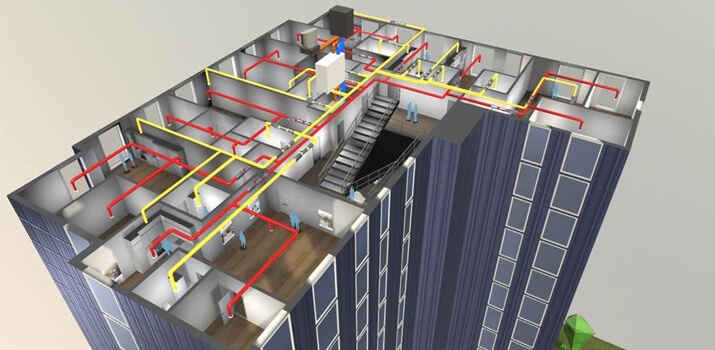 Better living comfort individually
Easy-to-use for the resident
Resident-specific control can be integrated with the cooker hood
Enables easier pressure differential controlling in very tall buildings
Smaller units than in centralised ventilation save up in floor area

A floor-by-floor ventilation unit serves one or two floors at a time. The ventilation is adjustable per apartment, which elevates living comfort to a new level as the residents can control the ventilation themselves. In addition to living comfort, energy efficiency is a very important selection criteria.


Commissioning is always preceded by a careful and dimensioned adjustment of the equipment, after which the maintenance of the equipment is clear. When the housing association handles maintenance, residents do not have to worry about building services at all.


In underground and enclosed parking spaces, jet thrust fans provide efficient and reliable ventilation, eliminate harmful emissions and ensure efficient smoke extraction and control. Pressurising the stairwell in the event of a fire creates a safe escape route.
Cookie Consent
In order to continuously improve the user experience on our website for you and to provide you with relevant advertising on our partner websites, we and our partners use cookies. Cookies store relevant information on your device for this purpose. Some information processed through the use of cookies on our website takes place in the USA. The protection of personal data in the USA does not meet the requirements in the EU, in particular there is a lack of enforceable rights that protect your data against access by government agencies. So there is a risk that these government agencies can access the personal data without the data transmitter or the recipient being able to effectively prevent this. Information about what data is processed in the USA and further general information on cookies and data protection can be found in our Privacy Policy.

Below you can choose to agree to the use of cookies and the associated processing of your personal data in the EU and the USA.

You can change your cookie consent settings at any time by accessing 'Cookie Settings' in the website menu. Here you can see in more detail which cookies you do not want to accept.
Necessary Cookies
Performance Cookies
Functional Cookies
Advertising or Targeting Cookies
More Details
Confirm Selection Use Necessary Cookies Only Accept All Cookies
Types of Cookies
These cookies are necessary for the specific functions of a website to be carried out. For example, such cookies are used when a user puts a product in the shopping cart and then continues to surf the site (or other sites) before proceeding to checkout. This means that his shopping cart is not deleted even after closing a browser window.​​
These cookies collect information about the behavior of users on the site and whether users receive error messages (if so, where and after which events). Loading times or the behavior of the website with different browser types are also measured with performance cookies.​​
Functional cookies​
These cookies are not absolutely necessary, but increase the "usability" of a website. For example, the location entered once is saved so that the respective user can immediately see this location when the page is called up again. Form data that have been entered, the size of the font or the like, can also be saved.​​
Advertising or targeting cookies are explicitly there to show the user advertisements that match their surfing behavior. You often notice the use of these cookies after you have been to online shops: Advertisements for this shop reappear on many websites visited afterwards, sometimes with a (deliberate) delay of a few hours to a few weeks. In online marketing, this is also called "re-targeting".​

Go Back