FläktGroup Indiahas received its single largest order for supply of AHUs & Fans together with its electrical control, panel & accessories. This delivery is being made to Samsung Electronics, India.
Customer: Samsung Electronics, India
Project: Samsung is investing in a new plant to manufacture 120 million mobile phones together with its screen for the first time in India for both domestic & export purpose.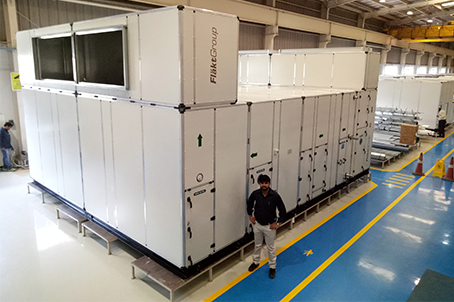 This project has been a perfect example of team work between two Asian entities – Korea & India. Samsung Electronics is a large customer to FläktGroup, Korea. FläktGroup India is supplying 45 Nos Air handling units, 149 Nos. Fans for Clean Room & other utility applications, being manufactured at its Greater Noida Factory. These are very large AHUs with a combined airflow of 2 million CMH. There are several critical parameters in the project – very large AHUs with its accompanying challenge of mechanical stability, multiple number of Fans within the same AHUs, maintaining low vibration level at AHU base, control of Fans via VFD in an electronic environment. Further FläktGroup also has to adhere to stringent transportation requirement and installation procedure including tough health and safety guidelines.
FläktGroup India always thrives to bring in EXCELLENCE IN SOLUTIONS to all its customers.