Fiumicino Airport - Leonardo da Vinci
In 2016 we provided more than 80 air curtains of the new Direct Flow series for the E area of Fiumicino Airport
Customer: Aeroporti di Roma, Italy
Need: Ensure the thermal comfort of the new boarding area where the continuous opening of the doors causes disruption to the indoor air temperature.
Solution: Air curtains on the entrance door to prevent loss of heat from the internal area.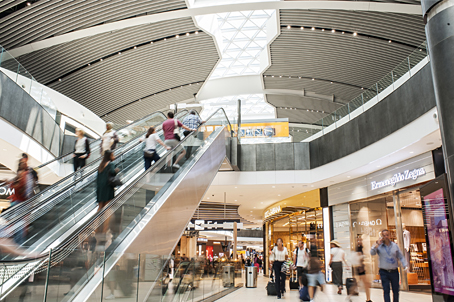 90,000 square meters, 390 million Euros and 6 million more passengers each year; just some of the data about this new boarding area of the Leonardo da Vinci - Fiumicino airport which opened December 2016.
For this new infrastructure, our business have provided 87 Direct Flow air curtains, a new series specifically developed for this purpose. The Direct Flow air curtains are available in widths from 1 to 3 meters, and in different versions – ambient, electric and hot water heating. They have a reduced depth of only 270 mm with the air inlet and outlet on the same axis. The air flow range is between 2,200 and 16,900 m3 / h, while the maximum installation height varies from 3 to 5 meters depending on the models selected.