2018-01-05
Woods fan shortlisted at the H&V News Awards 2018
The revolutionary JTv Jet Thrust range of fans has been shortlisted for Air Movement Product of the Year at this year's H&V News Awards..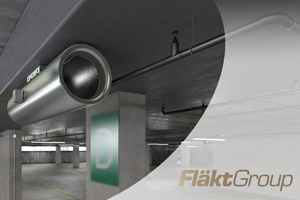 Developed from Woods' existing JMv line of high-efficiency and high-performance axial fans, both models in the JTv range – the high-thrust Slim Line and the more discrete and low-noise Low Profile – incorporate Woods' innovative VCC (Vortex Creation Control) technology to enhance performance and efficiency.
Utilising these technological advances, along with a more aerodynamic design, reduced tip gap clearance, single-stage guide vanes and a high efficiency impeller, the JTv performs at the top of the class, increasing the thrust of our fans by 24% and blowing the competition away. Despite the extra thrust, the JTv range uses up to 42% less energy per year compared to the JMv models, reducing the running cost by nearly half. On top of this, the JTv range also has a smaller diameter, meaning easier installation, reduced installation costs, saving on space and enhanced smoke control in difficult to ventilate areas.
Ross Dryden, Strategic Product Manager at Fläkt Woods says: "We are very happy to be shortlisted for this award. In an ever-changing market it is important to stay at the forefront of our field, creating innovate new technologies to meet and exceed the requirements of installers, building operators, contactors and end users. This product is a great example of the innovation and creativity that we cultivate at Woods to provide the best, most cost-effective and environmentally beneficial product for both initial installation and maintenance."
"One of the key things we focus on at Woods is addressing the impact of rising energy costs, increasing efficiency and lowering the carbon footprint of our products, whilst still increasing performance and capability."